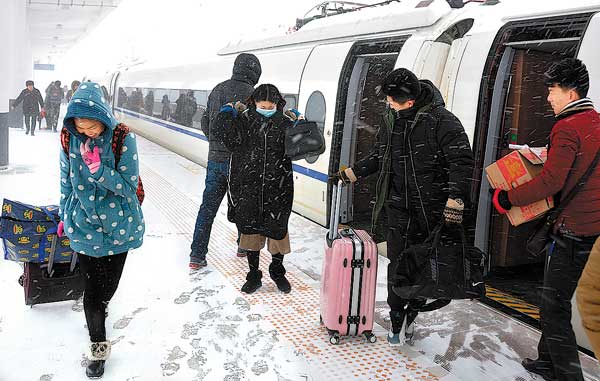 Passengers get off a train at Muping station in Yantai, Shandong province, on Sunday, which marked the start of the 40-day Spring Festival travel period. SUN WENTAN / FOR CHINA DAILY
In freezing weather on Sunday morning, Wei Guojian began his journey home for a Spring Festival family reunion.
It will take him nearly 24 hours to travel from Foshan in Guangdong province, where he has worked as a truck driver for eight years, to his hometown in Guizhou province.
"It was really difficult to buy a train ticket," Wei said.
The journey by motorcycle would normally cost Wei, who is traveling with his wife, about 300 yuan ($45) in fuel and road tolls for a one-way trip.
In contrast, it would cost double this amount to travel by high-speed train.
To provide motorcyclists with safe and warm homeward journeys, Sinopec Guangdong Oil Products has teamed up with the Guangdong Youth Volunteers Committee to offer free gas and other packages to the first 10,000 riders.
A total of 218 gas stations in Guangdong and Hunan provinces and the Guangxi Zhuang autonomous region will provide the service for riders, the company said.
It is the fourth year that Sinopec has operated the free service. This year, it has been extended to include 1,000 minivan drivers, according to Chen Chengmin, general manager of Sinopec's Guangdong branch.
Wei is well used to motorcycle travel. In previous years, he has made the trip home with most of his friends from Guizhou.
"You not only need to beat the cold weather, but also the waiting time if you want to buy train tickets," he said.
Several high-speed rail lines have been opened to connect most interior areas with Guangdong, which has attracted millions of migrant workers over the years to its manufacturing industry.