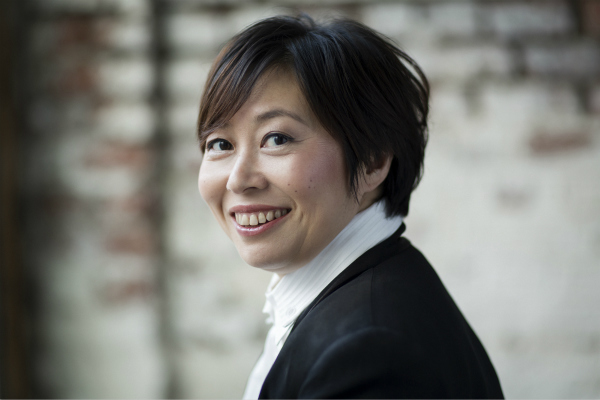 Xian Zhang, at 25 the first woman to be appointed as a guest conductor with a BBC National Orchestra in the UK. [Photo/Provided to China Daily Europe]
Xian Zhang is the first woman to be appointed as the principal guest conductor with one of the BBC's orchestra, the National Orchestra of Wales. The Chinese-born conductor feels that now should be the time to introduce more female conductors within the industry.
"Someone has to make a start. In fact, in China, female conducting is not a new phenomenon. A lot of conducting teachers are female,"Zhang says.
With the rapid growth of orchestral culture within China, Zhang thinks that the demand for conductors is increasing. And young conductors should seek the opportunities to work in China, a hotspot that every foreign musician wants to visit.
"It's important to explore the world but China is such a great market to be into make music,"Zhang says.
She did not leave the country until she wentg to the US when she was 25 years old. When she started conducting courses at school in the US, she was surprised that what she learned in China had never been taught elsewhere.
"The education in China for conducting is at a very compelling level. I didn't realize at that point that how much I had learned compared to other students in America. Students who are learning conducting in China now should realize how fortunate they are,"Zhang says.
The specific training that Zhang learned in Beijing helped built up her foundation, which assisted her study in the US further. In China, teacher set goals for students to achieve and there are theories and analysis to deal with.
However when Zhang studied in the US, she had to come up with her own methods. Zhang also gained experience of conducting a real orchestra twice a week, learning how to rehearse with a group of people.
"The philosophy of education in the US was free. The teaching doesn't limit you nor ask you to imitate anything. Some people might not do well, but they still allow you to try,"Zhang says.
Zhang has a track record of cooperating with a number of orchestras around the world. She was appointed as music director of the New Jersey Symphony Orchestra in the states.
And she has been the music director of the Orchestra Sinfonica di Milano Giuseppe Verdi in Italy since 2009. Zhang was also a regular conductor with the London Symphony and Royal Concertgebouw orchestras. China certainly is on her agenda, as every year Zhang works with up to four orchestras back in China. Having a tight schedule across the globe makes her one of the top 150 busiest conductors in a BBC Music poll in 2015, which only has four women on the list.
Speaking of orchestras in China, Zhang thinks that the culture is growing rapidly, thanks to the growing economy.
"As the economy is growing a lot, the needs of people, emotionally and spiritually, grow as well. In a way they need some kind of entertainment in the evening time. Something that is different from what they experience in daily life,"Zhang says.
The medium-size cities in China start forming their own orchestras. More concert halls are being built, too.