UK launches two-year visitor visas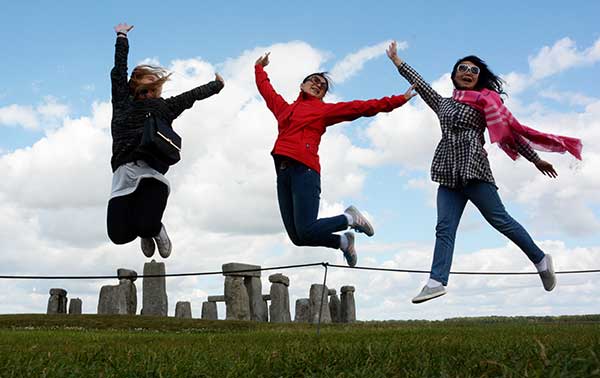 Chinese visitors at Stonehenge, a prehistoric site in Wiltshire, England. Britain has drawn an increasing number of tourists from China in the recent years.[Photo by Zhang Guilan/China Daily]
Britain's new two-year visitor visas for Chinese nationals was launched on Jan 11, the British Home Office announced Wednesday.
The new visa will cost 85 pounds (800 yuan, or $122), the same as the six-month visitor visa did, and will enable successful applicants to make multiple trips to Britain.
"The launch of this new visa enhances our excellent visa service by offering better value for money and more flexible travel for Chinese visitors, while ensuring that the UK border is protected," Government Immigration Minister James Brokenshire says.
"The number of Chinese visitors to the UK is rising year on year and this visa will allow Chinese visitors to further take advantage of the opportunities the UK has to offer for both tourism and business purposes."
The Home Office says the launch follows Prime Minister David Cameron's announcement of the pilot, during Chinese President Xi Jinping's state visit to Britain in October.