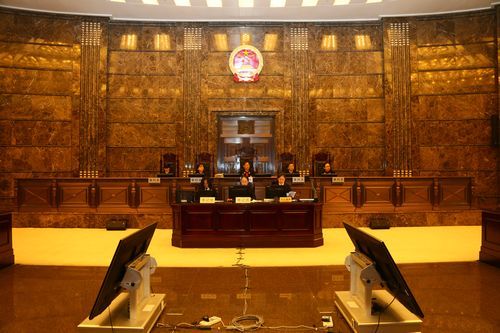 The Supreme People's Court holds a public hearing over the environmental public interest case on the afternoon of Jan 21, 2016. [Photo provided by the Supreme People's Court]
China's top court rejected on Thursday an application for a new hearing of an environmental public interest case, upholding the original ruling.
The applicant, the Jinhui company in Taizhou, Jiangsu province, appealed the initial ruling that ordered the company and five others to pay more than 160 million yuan ($26 million) in compensation for discharging waste acids into two rivers.
It was the biggest environmental penalty imposed in China arising from a public interest case concerning polluters. It was also the first time that the Supreme People's Court had heard such litigation.
In August 2014, the Taizhou City Environmental Protection Association, a public interest group, sued the six companies in the local intermediate people's court.
The association said the companies sold 25,000 metric tons of waste acids to a firm that did not have the authority to discharge the acids into the rivers. The discharge resulted in serious environmental pollution.
A month later, the intermediate people's court ordered the six defendants to pay more than 160 million yuan to restore the environment.
In December 2014, Jiangsu Provincial High People's Court upheld the verdict.
The Jinhui company's lawyer, Zhao Bing, said during Thursday's application hearing that the rivers were able to purify the pollutants naturally, and that such a large amount of money was not needed to restore the environment.
"My client just sold the acids under a contract signed with the Jiangzhong company that was in charge of dealing with the waste, and did not discharge the acids itself," Zhao said.
But the association said that the Jiangzhong company was not qualified to handle the acids under national discharge regulations, adding that the acids were still dangerous to the environment.
The top court said after hearing arguments from the two sides that the Jinhui company "should be obligated to pay attention to such a contract involving dangerous acids and also has responsibility for the discharge".
Lin Wenxue, the judge responsible for the case, said, "Although the rivers can self-purify such a discharge, it still damaged the surrounding environment."
Zhou Ke, a law professor at Renmin University of China, said, "The case heard by the top court will guide grassroots courts on how to deal with such litigation."
Wang Shuyi, an environmental law professor at Wuhan University, said the public hearing also showed that Chinese judicial bodies have played their role in environmental protection.