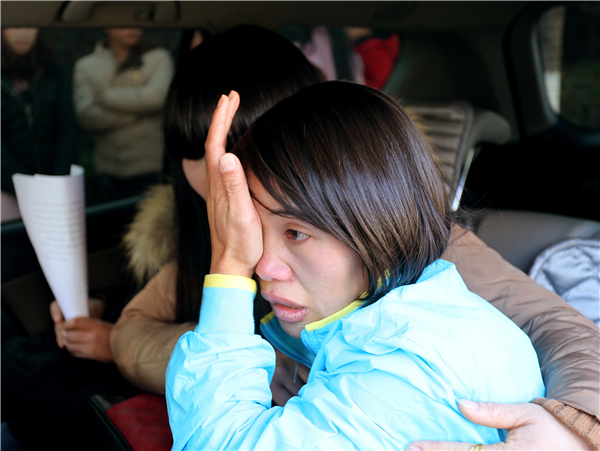 Qian Renfeng wipes away tears on Dec 21, the day her conviction was overturned by the Yunnan Provincial High People's Court. The 30-year-old was sentenced to life imprisonment 13 years ago after being wrongfully convicted of poisoning children. Photos provided to China Daily
Changes to China's judicial system are designed to eradicate physical and psychological torture, coercion and other illegal methods of obtaining information and confessions. Cao Yin reports.
For many women, their 20s are the best years of their lives, as they hold down a decent job, fall in love or help to raise a family. For Qian Renfeng, her 20s were a struggle; she spent the entire decade in prison, serving time for a crime she did not commit.
"I lost my best years in prison, but thanks to efforts of my family members and lawyer, the slate was eventually wiped clean," said Qian, who was sentenced to life imprisonment when she was 17 after being wrongfully convicted of poisoning children.
On Dec 21, her conviction was quashed by the Yunnan Provincial High People's Court, 13 years after she was jailed. The court described the case against Qian, now 30, as "flawed".
Qian's case wasn't the only one to make headlines in December. Chen Man, who was given a suspended death sentence for murder and arson, stood trial a second time at a court in Hainan province in an attempt to prove his innocence after serving 16 years in jail. Chen's case is ongoing.
Both said they had provided false confessions after being tortured during interrogation.
According to Yuan Ningning, a legal researcher at Beijing Normal University, the use of torture was commonplace during interrogations in the 1980s and '90s, one of the main reasons for the high rate of miscarriages of justice during the closing decades of the last century.
"At that time, the police had little awareness of human rights protection; they pursued a high clear-up rate, and their investigative skills were inadequate," Yuan said.
He said violent interrogation has become rarer as China moves further along the road of rule of law, and the regulations to prevent coercion and torture have been strengthened since 2012, when the country's top leadership made revision of the legal process a top priority.
Since then, a series of measures has been introduced to eradicate torture, such as stronger judicial interpretations of what constitutes admissible evidence and a stipulation that all interviews must be recorded in their entirety, he said.
In 2014 alone, the revisions resulted in 778 convictions being overturned after evidence was ruled insufficient or inaccurate, according to a work report published by the Supreme People's Court, the nation's top court.
He Jiahong, a law professor at Renmin University of China who specializes in the study of evidence and its collection, said special attention should be paid to new forms of psychological torture, and regulations should be drawn up to ban them.