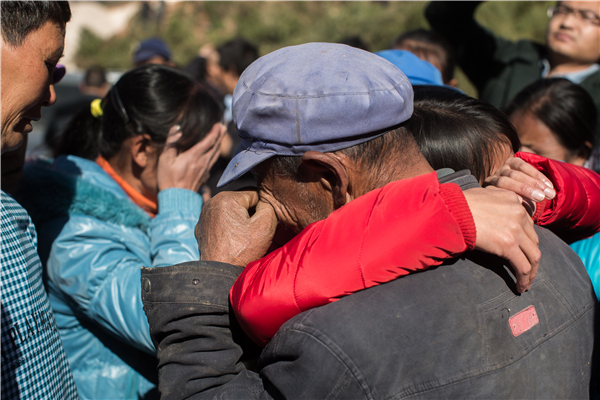 Qian Renfeng hugs her father at her home in Nantuan village, Qiaojia county, Yunnan, on Dec 22, the day after her conviction was overturned by a local court.
Technical improvements
Qian had mixed feelings when she walked out of the court in December. Although she was delighted to be free, her long absence from mainstream life had left her ill-equipped to deal with the modern world.
"The time in jail has made it a little difficult to get along with life today. For example, I don't know how to use a mobile phone," said the Zhaotong city native.
In 2002, Qian was sentenced to life imprisonment by the city's intermediate court after she was convicted of poisoning food at the kindergarten where she worked, causing the death of one child.
"When I was being interrogated, the police made me kneel for several hours to answer questions. I couldn't bear it, so I pleaded guilty. But my belief in the law made me, my family and my lawyer persist in lodging appeals," she added.
Qian's mother died in April, so her nephew, Qian Lunrong, is helping her to look for work in Kunming, the provincial capital, to help her family. "We believe that those who made mistakes in the case will be held responsible under the improved legal environment," he said.
Yang Zhu, a lawyer who has been working on Qian's case since 2010, said her conviction was quashed as a result of technical improvements in investigations and an increasing awareness of the protection of human rights.
"Ten or more years ago, the police regularly used torture when interrogating suspects because they were more reliant on oral confessions and their ability to collect evidence at the crime scene was inadequate," he said.
Now, though, interrogations are subject to strict regulations and torture has seldom been seen, especially in China's larger cities, since the government ruled that all interrogations must be recorded with audio and video, he said.
Yuan, the legal researcher, praised the government's determination to eradicate torture and said every step forward underlines the country's growing awareness of the importance of protecting human rights.
In 2012, the nation's top legislators highlighted the ban on torture in an amendment to the Chinese Criminal Procedure Law. A year later, the Supreme People's Court published a guideline under which courts were instructed to rule evidence inadmissible if it had been gained via improper methods, such as exposure to extreme cold, refusal to provide food or sleep-deprivation techniques.
In addition to the legal measures, improved investigative skills, such as the use of electronic devices to monitor and collect DNA evidence, have also contributed to improved evidence collection and helped to reduce the number of wrongful convictions, according to Renmin University's He.
A survey he conducted in 2007 showed that more than 90 percent of the 130 cases of wrongful conviction he studied were based on confessions obtained under duress. "However, our recent studies show that the problem has been alleviated greatly," he said.
Prosecutors should also be applauded, he said, because the improvement in interview techniques is partly the result of their improved supervision of evidence provided by the police. Meanwhile, the increasing role of judges, who handle cases independently, has also been crucial, he added.
"Ensuring that every judicial procedure is legal is an effective way of reducing the number of wrongful convictions, and will improve the nation's judicial credibility," he added.