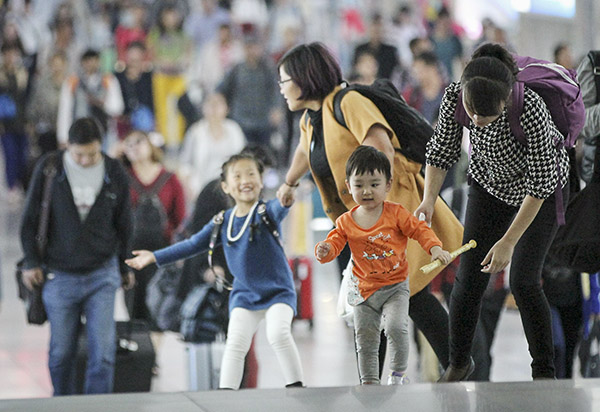 Tourists exit Qingdao Railway Station in Shandong province on Monday. [HUANG JIEXIAN/CHINA DAILY]
China's high-speed trains operated on tracks totaling 19,000 km last year, accounting for first place and 60 percent of the total mileage of high-speed trains in the world, Xinhua.com reported.
China invests 82 million yuan ($12.5 million) on fixed assets to operate 9,531 km of newly-built train lines, including 3,306 km of tracks for high-speed trains.
The railway network covers almost all cities with populations in excess of 500,000 in the country, said Sheng Guangzu, general manager of China Railway Corporation.
According to Sheng, 2.5 billion trips were made by the railway last year, up 10 percent for the third consecutive year.
Online purchases of train tickets accounted for more than 60 percent of sales.
Sheng said the authority is developing a demand-based ticket allocation system to solve the problem of most seats being assigned to major stations, resulting in some tickets remaining unsold while demand in smaller stations cannot be met.
The authority is coming up with a new mechanism to allocate tickets so every station -- big or small -- will have adequate tickets available, said Sheng.
A total 10.6 billion trips were made by rail between 2011 and 2015.
During the Twelfth Five-Year period (2011-2015), 358 billion yuan in investment went into railway fixed assets, a 47.3 percent increase on that in the Eleventh Five-Year period.
Some 30,500 km of new lines have been completed, up 109 percent on the Eleventh Five-Year period.
China also sent 815 trains to European countries last year, 165 percent more than in 2014.