Acting party head appointed after loss of leadership and legislative majority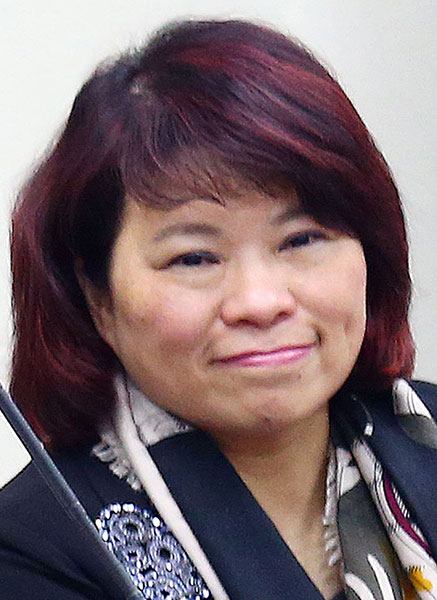 Huang Min-hui, acting chairwoman of Taiwan's Kuomintang party. CHINA DAILY
Vowing to conduct a review and internal reform, Taiwan's former ruling Kuomintang party held an extraordinary congress on Monday to appoint Huang Min-hui acting chairwoman, following the resignation of KMT chairman Eric Chu after losing the island's leadership election on Saturday.
Huang, the party's former vice-chairwoman, will temporarily take charge of party affairs till the KMT elects a new leader, the Ta Kung Pao newspaper reported on Monday.
Chu was reported as saying at the meeting that only the sincere introspection and reform will help KMT to win back voters. He said he hoped the future KMT leader would lead the necessary reform, and that party comrades would unite their efforts to strive for a better future for the island province, the party and the people.
Chu and People First Party Chairman James Soong were defeated in a three-way race. Democratic Progressive Party candidate Tsai Ing-wen won the election with 56.1 percent of the vote and will take the office in May.
In the legislative election, also held on Saturday, 68 of the 113 seats went to the DPP, 35 to the KMT and five to the New Power Party. The PFP got three seats, the Non-Partisan Solidarity Union one, and one went to an independent candidate.
Soon after Tsai claimed victory in the election, making her the island's first female leader, Chu acknowledged failure, saying in a speech at KMT headquarters in Taipei that losing the leadership and the legislative majority was an unprecedented blow to the party.
"This is the time to ask what should we do in the future?" he said. "We need to cultivate talent from the grass-root level, and let our future elites and leaders enter the government, enter the legislature through local elections. This is the only way forward."
Former KMT spokesman Yang Wei-chung, who resigned on Saturday before the election results were in, appealed on Facebook on Monday to start the reform first by lowering the barrier for the party leadership election, letting more and younger people participate in the competition.
Li Mi, Taiwan researcher and deputy director of the Shanghai Institute for Public Relation Studies, said the factors in the KMT's defeat include the economic decline and the government's poor handling of it, the power struggle and infighting in the party, and the failure to win over young voters.
"More than 7.2 million people in Taiwan are between 20 and 40 years old. That group is big enough to change the political map," he said. "The biggest problem the KMT had was they didn't realize the situation."
Zhu Songling, director of the Institute of Cross-Straits Relations at Beijing Union University, said the election result was due to the KMT's, not to a failure of cross-Straits relations, but the change might have ripple effects on the cross-Straits situation.