Cross-Straits talks on a free-trade agreement have been suspended as Taiwan goes through a political transition after its Jan 16 election, Phoenix Satellite Television reported on Tuesday.
Led by "premier" Mao Chi-kuo, Taiwan's "cabinet" resigned en masse after the ruling Kuomintang lost both the leadership and legislative elections.
John Deng, head of the island's economic affairs, reportedly said negotiations with the mainland on a free-trade pact, which would eliminate taxes on the vast majority of goods flowing across the Straits, will be totally suspended.
Talks might restart after the inauguration of the new leadership on May 20.
Before Democratic Progressive Party candidate Tsai Ing-wen won the leadership with 56.1 percent of the vote, 12 talks on the free-trade pact were held.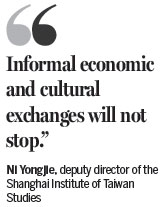 After the most recent discussions in Taipei in November, An Fengshan, a spokesman for the State Council's Taiwan Affairs Office, said the talks had achieved progress. The office said increasing economic exchanges would benefit people from both sides.
In recent years the sides have signed a slew of agreements on everything from finance to tourism.
Free-trade negotiations have always been one of the important issues in cross-Straits relations, according to Ni Yongjie, deputy director of the Shanghai Institute of Taiwan Studies.
He said the talks have little possibility of restarting before the new leadership takes office.
Ni said that as local affairs are at the top of Tsai's agenda, the talks might not restart soon as Tsai has not yet given her opinion on the 1992 Consensus.
"Even though official negotiations are suspended, informal economic and cultural exchanges will not stop," he said.