Weak economy, a strong yuan, as well as smog given as reasons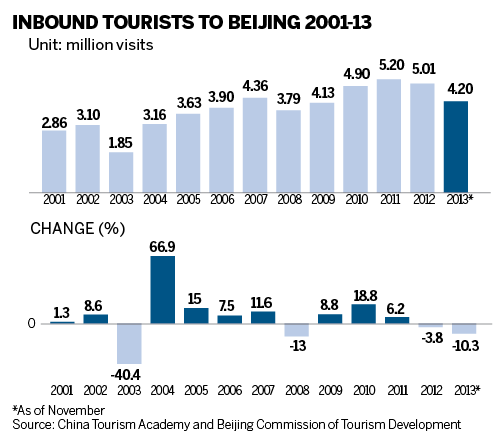 Beijing witnessed an unexpected sharp drop in inbound tourism in 2013, as tourism officials looked for ways to reverse the trend.
From January to November, the city recorded 4.2 million visitors, down 10.3 percent year-on-year, the Beijing Tourism Development Commission reported.
The commission blamed the weak global economy and a strong yuan, as well as the city's ongoing pollution problems.
The effect of a 72-hour visa waiver for transit passengers also failed to meet expectations, industry insiders said.
Based on research showing that most people passing through Beijing Capital International Airport would take advantage of the waiver, Wang Yue, deputy director of the authority, said earlier that the policy was expected to attract 20,000 visitors in the first year.
However, the Beijing General Station of Exit and Entry Frontier Inspection said the number was just 14,000.
Beijing is not the only city experiencing a decline.
Statistics from the China National Tourism Administration show inbound tourism reached 118.2 million visits from January to November, a 2.47 percent year-on-year decrease.
China's inbound tourism market has been stagnant in recent years, as tourists to the nation, many of whom are from Japan, South Korea, Russia and the United States, were shunted to other Asian destinations, including Thailand, Indonesia and Malaysia.
Don't miss