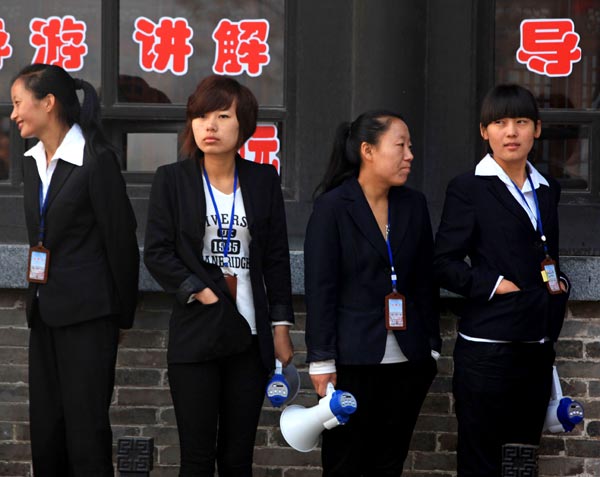 Tour guides wait in line at Qiao Family Courtyard, a castlelike family compound in Qiqian county,
Shanxi
province, in October. Wang Zirui / for China Daily
As China prepares for the annual Spring Festival tourism spike, many tour guides face hard choices in light of the new tourism law.
The law took effect on Oct 1 and bans forced shopping during trips. Three months later, many tour guides are looking for new jobs, since much of their income came from the commissions they earned by herding tourists into shops.
Previously, travel agencies were able to offer tours that on the face seemed cheap but came with hidden charges, principally commissions in partner stores.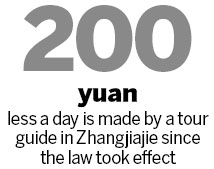 Travel agencies have had no choice but to raise tour package prices, leading to a steep drop in the number of tourists.
Zheng Yan, 26, a tour guide in Xi'an, capital of Shaanxi province, said she is worried about how she is going to pay her rent of 1,300 yuan ($215).
A few months ago, Zheng's job was profitable and flexible, but the situation has changed. She plans to quit her job and prepare for the civil servant exam next year.
"The tourism law has had far-reaching effects on travel agencies and tour guides," Zheng said.
"I worked very hard but failed to support myself. No basic pay or insurance. No kickbacks. I feel lost now."
Since the law took effect, seven out of 30 guides from her agency have left, but their new jobs are far from satisfactory.
Sun Xiaoxia, a tour guide in Zhangjiajie, a destination in Hunan province, is in a similar predicament. She has been a tour guide for more than five years and, before October, earned nearly 10,000 yuan a month. Since the law took effect, Sun said she is making about 200 yuan less a day.
According to the law, travel agencies must give guides basic pay and social insurance.
"But with a rented office, a computer and a few phones, anyone can set up a travel agency and do business from almost anywhere in China. These cowboy agencies are not interested in guides' personal problems," Sun said.
A manager of a small agency in Xi'an who asked to be identified as Wei said he is concerned that he won't survive the industry's restructuring, let alone be able to support tour guides.
"Since 2006, China's travel agencies have said farewell to easy money and enormous profits," he said. "Now we are facing a bottom line of below 5 percent."
The government's measures against extravagance and corruption have also caused a a sharp decline in trips organized by government departments and State-owned enterprises.
China has about 25,000 travel agencies, and more than 13.5 million people are employed in the industry.
"The guides must understand the times of windfall profits have passed. Everything has returned to the rational. The only way to earn money is to provide quality services," said Zhang Yan of the Shaanxi Provincial Academy of Social Sciences.
"China's tourism industry is restructuring. Unqualified agencies and guides will be forced to quit the market," Zhang said. "But we need time to iron out the creases."