Career success is defined mostly by compensation: Recruitment survey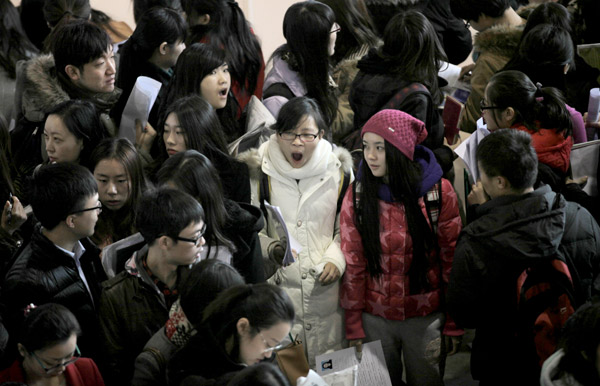 Graduates seek job opportunities at an employment fair in Beijing on Dec 13. A survey has found that the most important metric of career success for China's Generation Y (aged 18 to 30) is creating personal wealth.[Wang Jing / China Daily]
When it comes to defining success, the standards vary from person to person and can include intangible rewards. But with few exceptions, young people in China these days have one main requirement: cold, hard cash.
In a survey by global human resources firm Hays, by far the most important metric of career success for China's Generation Y (aged 18 to 30) is creating personal wealth, as 64 percent of the 1,000 young people surveyed listed it as their top priority.
In other surveyed countries, job satisfaction and enjoyment of work were the top priorities. But China's Generation Y workers are less likely than those in other countries to look for work flexibility — and far more likely to be driven by the potential to earn a bonus.
"This is not surprising, given that China remains a relatively poor developing country where many people have been attracted to the cities from rural areas in the hope of making a better life for themselves.
"Generation Y Chinese now have the chance to increase their income by working hard and furthering their careers. Making money appears to be the most important incentive for the majority of people surveyed," said an expert at Hays.
Lu Yao, 30, has had three jobs since he finished graduate school in 2009. In each case, the motivation was the same: more money.
Cash is king
Lu's first job was as a consultant at an overseas bank. The pay was good enough for a fresh graduate — about 7,000 yuan ($1,140) a month. But it was only good enough for two years, at which point he went to work as a product manager at a domestic securities company.
Disheartened by the mainland stock market's lethargic performance throughout much of 2013, he moved again in November, going to a smaller securities company that nonetheless pays better.
"It was kind of sad for me to see the company where I worked shrink over the years. But cash is king," he said.
"I need the money to pay a mortgage, prepare for a wedding and maintain my current living standard.
"Considering all these things, money always comes first compared with all other things, such as the company's reputation or what the boss is like," he said.
Tang Aijiao, 29, used to work for a large electronics and information group in Shanghai. She was mainly responsible for making videos for the company's communications department, a job many outsiders would jump at. But she quit in October, also over money.
"The company wanted me to work in the United States branch office for at least three months every year. But they refused pay me extra for this. That is totally unfair. I immediately handed in my resignation without hesitating," she said.
A month later, she landed a job at a domestic advertising agency in Shanghai, heading the new media department.
"The content of the job is up-to-the-moment. I can learn a lot, and I don't need to relocate overseas. The most important thing is, my monthly salary has risen from 6,000 yuan to 10,000 yuan. Why not?" she said.
Even those who can profit from their family business may fret over money.
Wan Ling, 28, has been working in the hardware business started by her grandfather in the early 1990s.
As a sales manager, she makes roughly 10,000 yuan every month, which is considered very good among her peers. But for her, it's never enough.
"I really like shopping. So a 10,000 yuan salary can hardly suffice," she laughed.
"But the most important thing is, I don't want to live under the wings of my grandfather or my family all my life.
"I want to have my own business, using all I learned at school and devoting all my passion to it," she said.