Car washing women clad in bikinis cause online stir, teenager dies from working out, rich dad unable to save dying son and UN civil servant jobs in China become harder to get, it's all trending now across China.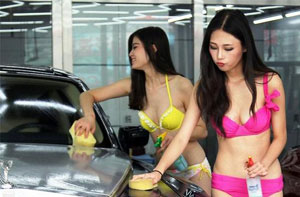 Bikini carwash
A unique service promoted by an automotive maintenance center in Chaoyang District, Beijing, has hired women clad in only bikini swimsuits to wash cars, and for a whopping 880 yuan ($142) a car. The service does not include car waxing and maintenance, and is much higher than a regular carwash which goes for roughly 30 yuan, morningpost.com reported on Friday.
The promotional service has been greeted with huge criticism and was described as "vulgar" while the carwash's manager claimed that they are just trying to be creative in order to survive fierce competition within their industry. They are planning to continue the service after their employees receive further professional training.
Related:
Bikini girls celebrate youth carnival in water-splashing fight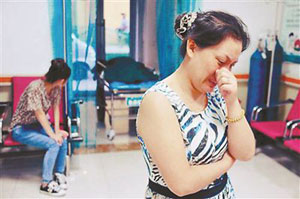 Workout kills girl
A 17-year-old girl, who had recently been admitted to a college, died at a gym during a fitness workout that was part of her new weight loss program in Shenyang, Beijing Youth Daily reported on Friday.
The girl joined the intense training program in order to get the slender figure she had always dreamed of. The program is an enclosed weight-loss summer camp with a 8,000 yuan price tag and promises weight loss to all those who enroll.
The cause of death is currently unknown and the gym might be held responsible for the girl's death over its lack of proper supervision.
Related:
Graduate hails the delights of life in Xinjiang

Rich dad unable to save son
A multimillionaire couldn't withdraw money from his account to pay for his son's medical fees which then leads to a delay in medical treatment resulting in his son's death, Hua Shang Daily reported on Friday.
The rich man's credit card was frozen by a credit cooperative because someone allegedly had imitated his signature to sign a loan contract and never paid it back. The credit cooperative denied responsibility for the death of the man's son.
An investigation is underway.
Related:
Millionaire Ko pondering how to spend her winnings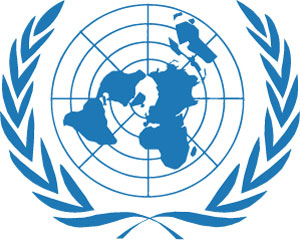 UN civil servant salary $50K in China
UN Young Professional Programs has started to recruit in China. Applicants need a first-level university degree or an advanced degree, and will need to be fluent in either English or French and under the age of 32 by the end of 2014, Beijing News reported on Friday.
Despite the fiercely competitive exam, the UN offers considerable benefits for its regular employees. For example, a basic annual wage for an entry-level employee of about $50,000 is exempted from income tax and also comes with a month's paid vacation every year.
Currently, the number of Chinese employees at the UN Secretariat is over 300.
Related:
UN energy program to lift China fund

Zone with a heavenly view of the night sky
Ngari prefecture in Tibet is seeking international recognition from astronomers for a plateau that gives an unobstructed view of the night sky. Ngari's tourist bureau told Xinhua News Agency on Thursday that it has applied to join the International Dark-Sky Association, which campaigns against light pollution.
This would enable the bureau to build a conservation zone in line with international standards. If the application is successful, the 2,500-square-kilometer area will become the first such park in Asia, said Wang Xiaohua of the association's China branch.
Related:
Tibet plans night-sky conservation zone

Desalinated water could ease capital's thirst
Technical difficulties may no longer be a barrier to using desalinated seawater in Beijing, an expert said at a conference on Tuesday.
Ruan Guoling, an engineer at the Tianjin Institute of Seawater Desalination and Multipurpose Utilization, said Beijing was trying to develop new supply channels to meet increasing demand. "Desalinated seawater could be a viable alternative in the future," he added. The conference was hosted by the China Association for Science and Technology.
Related:
Desalinated seawater from Hebei to supply Beijing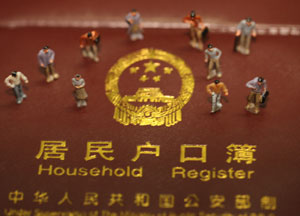 Registration papers obtained illegally
A man was sentenced to six months' imprisonment, suspended for a year, for illegally obtaining household registration for his daughter, Beijing News reported on Thursday.
The man, surnamed Zhang, 37, and his wife work and live in Beijing but their marriage and daughter's birth are registered in the United States. The man wanted his daughter to go to school in Beijing and bought fake documents for her birth and household registration.
Related:
Guideline to accelerate China's household registration reform

No further sign of plague; quarantine ends
A quarantine order on an area of Yumen where a man died from bubonic plague has been lifted after nine days.
A total of 151 people who came into close contact with the victim had been put in quarantine under medical observation. None has displayed symptoms of the disease, according to a report submitted by the local authorities and approved by the provincial government. Plague is a Class A infectious disease, the most serious category under China's Law on the Prevention and Treatment of Infectious Diseases.
Related:
Plague quarantine lifted in NW China