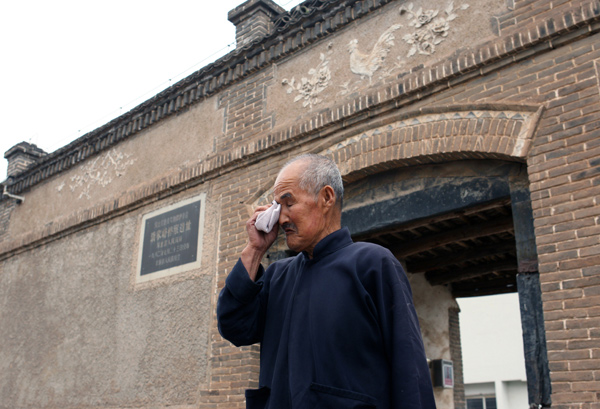 86-year-old Pan Ruihua, one of the survivors from the Panjiayu Massacre in Tangshan, Hebei province, weeps as he remembers the slaughter committed in the village compound by Japanese soldiers during World War II. Wang Zhuangfei / China Daily
Residents seek compensation for 1941 slaughter by Japanese army, He Na reports from Panjiayu, Hebei province.
'I pretended to be dead': survivor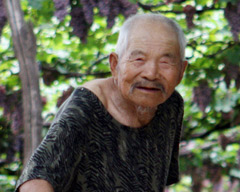 When he spoke about the massacre, 87-year-old Pan Shouli became so angry that he beat the ground with his walking stick in fury.

"If I hadn't been pinned down by the corpses and pretended to be dead, I wouldn't have survived. As I lay there, I saw a Japanese solider holding my young cousin by the legs, one in each hand. He ripped the child apart as if he were tearing cloth and ..."
It's not easy to reach Panjiayu, a village in the countryside around Tangshan, Hebei province. To get to the isolated village, visitors first have to take a bus ride of about an hour to the Fengrun district before taking a long-distance bus, which usually runs five times a day.
After almost three-hours on the bumpy country roads, the bus finally stops at a well-designed modern building that seems incongrous with the surroundings where grapevines dominate the landscape as far as the eye can see.
Surrounded by mountains and bathed in plentiful sunlight, Panjiayu is nicknamed "Turpan", after the city in the Xinjiang Uygur autonomous region that is famous for its sweet grapes.
The fruit is the Panjiayu's main money spinner - the courtyard of almost every home boasts at least one grape trellis, and the main road is enlaced by vines.
Last year, about 200,000 tourists from nearby cities visited Panjiayu. Even so, the place has retained its traditional feel. When night falls, except for a few road lamps that send out a dim light, the village is shrouded in darkness, the silence only broken by the occasional bark of a dog.
So why does this village of just 1,500 residents attract so many visitors? Grapes are only part of the reason; most of the tourists visit to commemorate a massacre that happened 73 years ago. The modern building that seems so at odds with the traditional feel of the place is a memorial to the events of Jan 25, 1941, two days before Lunar New Year, when the Japanese army carried out a frenzied slaughter of unarmed villagers.
"About 1,298 of the 1,700 villagers were murdered. Of the survivors, 273 were not in the village that day, and although nearly 200 others survived, 98 of them were badly injured," said Pan Ruishen, the leader of the Panjiayu Compensation Team for Japanese Atrocities.
Panjiayu was just one of many massacres committed by the Japanese during the occupation of China before and during World War II.