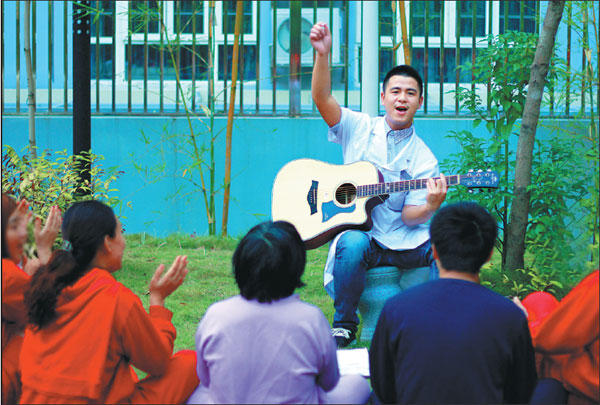 A music therapist guides patients in a singalong at Kangning Hospital in Shenzhen,Guangdong province.Liu Qian / For China Daily
A government-sponsored facility provides psychiatric patients with opportunities to reintegrate into society. Tang Yue reports from Shenzhen, Guangdong province.
Every day, Alice, not her real name, travels 25 kilometers each way to work, changing buses twice en route. To secure a seat on the earliest bus, she rises at 4 am and leaves home an hour later.
She is employed by the Dandelion Clubhouse in Shenzhen, Guangdong province. Despite the name, it's not a night club, but a facility where people with mental health issues learn to reintegrate with society.
Alice was diagnosed with schizophrenia in 2008, and she started coming to the club in 2010 at a time when her mental health was stable. At the club, she shares a space with about 30 other members, who cook for themselves, do paperwork and even produce a weekly TV news program about Dandelion's activities.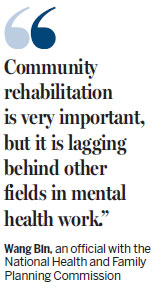 "I know I have a mental illness. But in the clubhouse, I don't feel like a useless person anymore," said the 38-year-old, who preferred not to give her real name. She receives 1,400 yuan ($210) a month from Dandelion, which is sponsored by the local government, if she works a full schedule.
"Everyone is equal here, and I feel like talking more. Being emotionally more stable, I am also able to treat my family better," she added.
Unlike hospitals, which focus on medical treatment, Dandelion provides stable patients with the encouragement and assistance they need to lead successful lives, so they can recover and participate fully in society.
Communal activities
Since 1948, when the Fountain House, the first facility of its kind, opened in New York, more than 320 others have been established worldwide - including five on the Chinese mainland - and have been accredited by Clubhouse International.
"Here, we are not doctors and patients. They don't call me Director Chen but Brother Chen. Every time we want to accomplish a task, we ask, 'Could you please do it with us together?'" said Chen Yuanhua, director of the Dandelion Clubhouse.
The deinstitutionalization movement started in the West in the 1960s, replacing long-stay psychiatric hospitals with more-inclusive community services for people with mental health issues.
However, the situation is more complex in China, where 4.3 million people were registered with severe mental issues by the end of 2014. Moreover, unlike in developed countries, the basic medical resources for psychiatric patients are underfunded and inadequate.
Data from the National Health and Family Planning Commission show that China has 1,650 professional mental health institutions, with 228,000 beds, about 1.71 beds for every 10,000 people on average. However, in many county-level cities in less-developed regions, there are no major facilities.
In most Western countries, by comparison, the number is five beds or more per 10,000 patients.
As a result, community services, including the clubhouses and their variants, are less developed in terms of both quantity and quality.