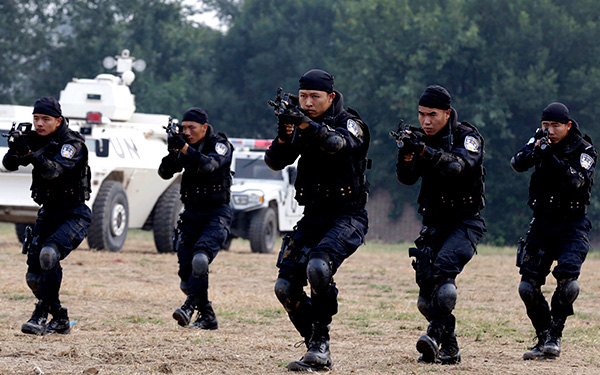 UN police unit members from China practice in Langfang, Hebei province, on Wednesday. LI HUISI/CHINA NEWS SERVICE
The world's first standby, rapid deployment police unit for United Nations peacekeeping missions passed UN tests on Wednesday, paving the way for participation in future missions.
"Today, altogether we have witnessed an excellent performance, a professionally formed police unit," said Ata Yenigun, chief for selection and recruitment at the UN's Department of Peacekeeping Operations and the test evaluator. "We have seen motivated personnel, a fit and healthy staff."
The tests, which were held at the China Peacekeeping Police Training Center in Langfang, Hebei province, had five parts-including team tactics, VIP escort, vehicle check and crowd control-and all 160 members of the unit passed with merit, according to a statement by the Ministry of Public Security.
The unit, established by the ministry, was a response to President Xi Jinping's commitment during the UN Peacekeeping Summit in September last year that China would join the new UN peacekeeping capacity readiness system and take the lead in setting up a standby police unit, the ministry said.
Xi also announced during the Peacekeeping Summit that China would build an 8,000-strong standby troop force for UN peacekeeping missions.
The new system differs from traditional peacekeeping forces in that they are more rapidly deployed and more mobile, according to Yenigun.
China is so far the only country that has pledged such a unit for rapid deployment, Yenigun said. "It puts China as the No 1 police contributing country among all Security Council members," he said.
Members of the unit were selected from border control forces across China, and more than 50 of them have peacekeeping experience in such countries as Haiti and South Sudan, according to the ministry.
The members have taken courses such as language training, UN-based knowledge and tactical skills since predeployment training began in June, the ministry said.
Lyu Yanchen, 26, a platoon commander of the unit, said he volunteered for the selection in March and passed three rounds of strict tests, including an English language test and one for leadership ability, before being recruited to the unit.
Lyu, from the border control force in Southwest China's Yunnan province, said he took part in cargo escort and crowd control exercises during the performance on Wednesday morning.
"Right now we are waiting and will continue to get trained, so in the future we can quickly take missions if ordered."
Yenigun said another team from the UN will inspect the unit's equipment in October. After assessment of the equipment, and if everything goes smoothly, the unit will be ready for rapid deployment, he said.