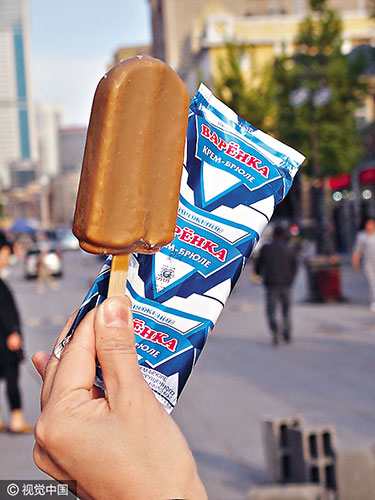 A tourist holds a Russian ice-cream in Dalian, Northeast China's Liaoning province, June 23, 2014. [Photo/VCG]
Ice creams made in Russia are gaining popularity in China after Russian President Vladimir Putin brought them as a gift for President Xi Jinping during the G20 summit in Hangzhou earlier this month.
Xi, who turned out to be a fan of Russian ice cream, expressed his gratitude to Putin and added that he always tasted Russian ice cream during his every trip to Russia, according to a report by Cankaoxiaoxi, a Chinese newspaper.
Well, it seems President Xi is not the only fan of the Russian delicacy. During the Heilongjiang Organic Food Expo, which concluded on Monday, Russia ice creams are in great demand, Chengdu Business Daily reported.
Manzhouli Ange Import & Export Company, a major importer of Russian ice creams to China, in Inner Mongolia autonomous region, started to import Russian ice cream five years ago, and the sales of the company have increased 200 percent than that of last year, according to Manager Wang Xianzhe.
Wang attributed the surge of sales to Putin's gift for Xi at the G20, and said the imported brands and flavors have also expanded from 50 to 400. "It surely served as an advertisement."
"The telephone inquiries have doubled from across the country, and our Russian products have even been sold to eastern costal city Taizhou, in Zhejiang province." In Wang's opinion, the time for a bite of Russian ice cream has come.
In the Chinese border city of Manzhouli and Suifenhe, the Russian ice cream is already quite popular.
Statistics from Manzhouli Entry-Exit Inspection and Quarantine Bureau have shown that more than 271 tons of Russian ice cream, worth $863,000, have been imported between January and August this year, a 267 percent and 1,387 percent surge from last year respectively.
Xie Jinyong, a staff member with the bureau, said the import of top-quality Russian ice creams has risen this year.
"One cup of Russian ice cream usually sells at 15 yuan ($2.24), 25 yuan or 30 yuan, and the top quality one sells for up to 50 yuan ($7.49)," Xie said.
In Suifenhe, the import of Russian ice cream in the first half of this year was 71 tons, worth $141,000, a 206 percent and 96 percent increase from last year respectively.
The rising popularity of Russian ice cream in China reflects Chinese customers' favor in the taste and trust in the ingredients of the products.
"Russian ice creams are primarily characterized by its ingredients and great taste," said Wang Xianzhe.
"Milk accounts for over 80 percent in every ice cream, the chocolate crusts in chocolate ice creams are almost one-time thicker than other imported products, and the whole milk chocolate is extremely nutritious," Wang added.
According to Russian news agency Sputnik, the Russian ice cream makers have not only preserved the traditional production technology but have also preserved a sense of honor and self-confidence in the production of ice cream using techniques which are many decades old.
"Looking at the Soviet production, the ice cream was manufactured under strict scientific regulations provided by dietitians and nutrition experts. It gave the ice cream a unique taste as well as preserved all of the necessary nutrients required for the human body," Sputnik reported.
Introduced in 1941, the standards for ice cream set by the Soviet state were considered some of the strictest in the world.
Apart from the quality and the great taste, there is one more thing that makes Russian ice cream a desirable choice for the Chinese market - its reasonable price.
Compared with European and US brands, Russian ice cream has gained a unambiguous price advantage since the fall of the Russian ruble, People's Daily reported.
However, a big challenge for the import of ice creams is storage. The ice creams are "light but very bulky," said Chen Chaoyuan, a salesman from a cold storage logistic company in Suifenhe.
According to Chen, there are currently eight cold storages in Suifenhe, northeast China's Heilongjiang province, and more are being expanded.
A logistics company capable of storing 50,000 tons of ice cream was opened in Suifenhe last year, according to Chengdu Business Daily.
"Once the logistics problem is solved, we are planning to sell our ice creams to places as far as Southwest China's Sichuan province. It would have a big market as there is a large population there," a Russian salesman attending the Heilongjiang Organic Food Expo said.