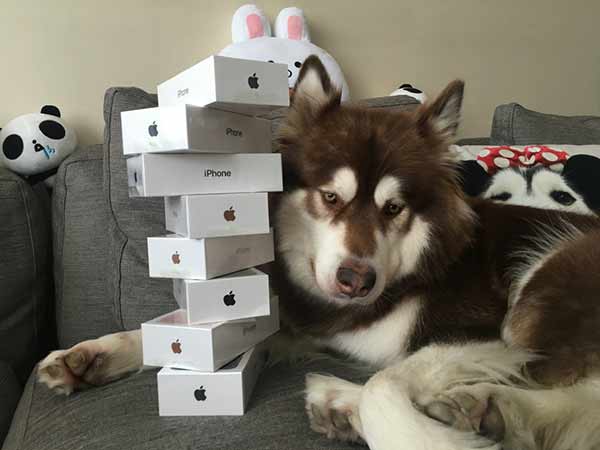 Wang Sicong's dog and stack of iPhone7. [Photo from Sina Weibo]
The iPhone 7 is probably the trendiest thing right now, and the son of China's richest man is making sure that his dog doesn't miss out.
Wang Sicong, China's billionaire and property mogul Wang Jianlin's son, bought eight iPhone7s for his pet dog and posted pictures on his dog's Weibo account.
The caption comes with the picture is "Not sure what people are showing off on social media about. What's the point to show off? Should I do something?", ironically captioning pictures of the dog surrounded by eight brand new iPhones.
Wang Keke, or Coco, is a star pet dog among Chinese internet users whose Sina Weibo followers exceed 1.9 million.
Wang Sicong has a peculiar way of showing off his family's wealth through his pet's Weibo account featuring the luxuries he lavishes on his canine friend.
Last year, he showed a picture of his dog with two Apple Watches which cost over 100,000 yuan ($14,984), sparking heated debate.
Sometimes the dog is shown with luxury brand accessories.
Many people commented on the photos that "we can't even compete against a dog."
As most of the followers are used to this sort of showing off, the majority commented under the picture, "Is there going to be a lucky draw?"