Special lanes help women cut time spent in line, while protecting privacy
Three security lanes created especially for women began processing passengers at the Guangzhou Baiyun International Airport in Guangdong province on Monday, with the aim of protecting the privacy of female passengers and help them avoid the embarrassment of being checked by male security guards.
All the security guards who work in the women's lanes, which uses pink as its identifying color, are women, according to a news release from the airport on Monday.
Meanwhile, children who fly with their mothers are also allowed to use the lanes.
It also offers special baby baskets, said Liang Yanfei, one of the guards.
"Women passengers usually bring more articles to board planes, and we usually remind them to prepare in advance for security checks for their articles, including cosmetics, mobile phones, iPads and their personal belongings, to help save time," Liang said.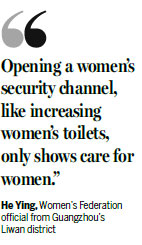 The Guangzhou airport is said to be the first on the Chinese mainland to have opened such special security lanes.
Officers checked more than 3,600 women passengers and dozens of children on Monday.
Female passengers could reduce their time on security checks by about 15 percent, according to the airport.
He Ying, a Women's Federation official from Guangzhou's Liwan district, said the lanes provide great convenience to women and helps the airport shorten security checks.
"Women usually need more time to get through security in airports; therefore, opening such security lanes for women will certainly help the airport operate more smoothly," He told China Daily on Monday.
She did not think it discriminated against women passengers.
"Opening a women's security lane, like increasing women's toilets, only shows care for women, not discrimination," she added.
Many women passengers have welcomed the lanes.
Cui Chenying, a Guangzhou office worker, said it is convenient for female passengers.
"Sometimes, I really don't want to be checked by male security guards who stand close to me and use the equipment to scan my body," Cui said.
"The service is good and the female security guards are very nice," said Cui, who flew to Shanghai on Monday afternoon.
Huang Mengting contributed to this story.
zhengcaixiong@chinadaily.com.cn