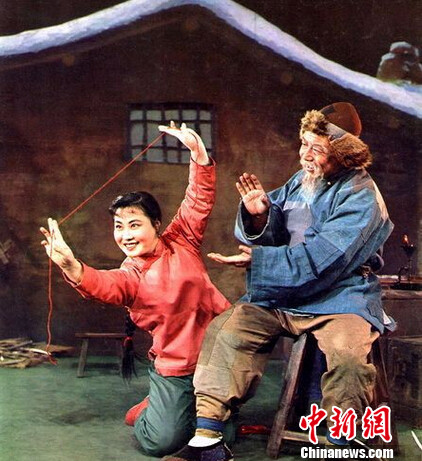 Stage shot of Guo Lanying in a opera performance [Photo/Chinanews.com]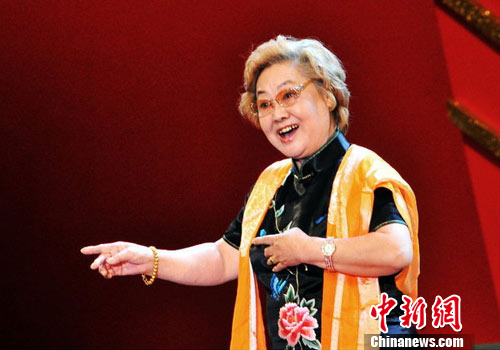 A recent photo of Guo Lanying [Photo/Chinanews.com]
When the list of great cultural figures of China for 2014 was published, recently, joining it was Guo Lanying, a soprano and vocal music mentor, born in old Pingyao county, Shanxi province, in Dec 1929, because of her many decades, in fact a lifetime, of contributing to Chinese opera and folk music and promoting exchanges with foreign countries.
She began her musical career at the age of four and became a member of the People's Liberation Army arts group at age 16. In the 1940s, she had the leading role in the national opera The White Haired Girl (Bai maonv), the first successful case of trying to incorporating western operatic elements in Chinese opera. After that performance, she was admired all across the country. Over time, her works changes with the times and became classics in China and abroad.
She toured and performed around the world and won national and foreign artistic awards. She did pioneering work in Chinese opera and music, as well in vocalization, stage performance, acting, musical training and play innovations, even in her later years. To support the national opera, she and her husband sold their possessions and moved to Guangzhou, Guangdong province in the southern China, to establish the Guo Lanying Arts School, in 1986, for music and arts education. And, a new generation of operatic artists, thanks to her more than 20 years of hard work.
Even now, in her 80s, she still gives public lectures occasionally and is trying to do more for the field that she loves so. The awards ceremony for this year's great Chinese cultural figure will be held in the city of Wuhan, Hubei province, on Jan 6, with sponsorship from the Chinese Cultural Promotion Society and Phoenix TV. The award was introduced in 2009.
Edited by Roger Bradshaw