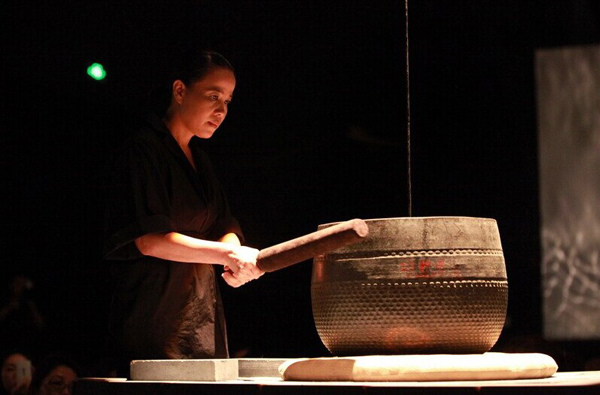 Dadawa during the exhibition "Sense of Hearing" on Monday, September 15, 2014. [Photo provided by Today Art Museum]
Dadawa, a singer and musician celebrated both at home and abroad, made her debut in the sound artist's chair Monday at the Today Art Museum in Beijing.
Famous for her 1995 album "Sister Drum," Dadawa, whose real name is Zhu Zheqin, is now using sound rather than music to connect with the audience in a more primitive way.
Showing through Sept 22, the sound art exhibition "Sense of Hearing" uses both live sounds and field recordings, including a baby crying, water dripping, cicadas chirping and machinery thumping.
In addition, about 70 professional performers at the site make sounds with their mouths or other materials. Visitors are encouraged to join them by articulating their own vocal sounds.
The exhibition also includes a visual element, as installations reflect the environment in which some sounds are made. Performers revolve around museum-goers from time to time, keeping light and shadows in flux.
"Sounds can provoke shared feelings in people from different cultural backgrounds. What art generates in many cases is a moment that can be intervened and participated in," writes curator Li Zhenhua in the exhibition's preface.
"This time I am a listener, not a singer," said Dadawa at a press conference before the opening of the exhibition. She invited visitors to use their ears as well as their eyes to experience the piece.
IF YOU GO
2nd floor exhibition hall of Building No.1, Today Art Museum
Opening time: 10am to 6pm, Sept 15 to Sept 22, 2014