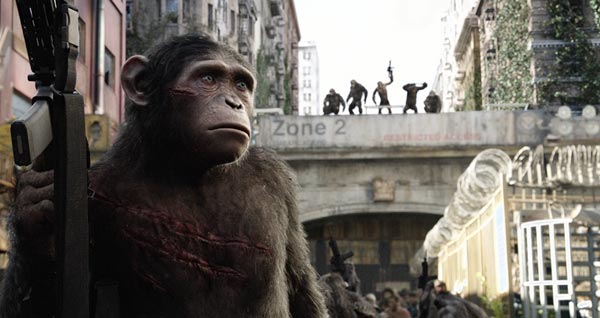 A scene from Hollywood blockbuster Dawn of the Planet of Apes 2, which is drawing big audiences in the mainland film market. Photo provided to China Daily
Hollywood blockbusters led the way in Chinese theaters during the Mid-Autumn Festival holidays, China Daily reports.
China's total box-office earnings for the Mid-Autumn Day holidays surpassed 350 million yuan ($57 million), an increase of 55 percent compared to the same period last year, according to industry news portal M1905.com.
Hollywood blockbusters were the main grossers. The Expendables 3, which premiered on Sept 1, starring Arnold Schwarzenegger and Chinese kung fu star Jet Li, earned 124 million yuan during the three-day period.
The sequel Dawn of the Planet of Apes 2 grossed about 120 million yuan.
The two movies have dominated the film market this month. Dawn of the Planet of Apes 2 is expected to become one of the highest-grossing foreign films in China this year. Fans and critics alike have praised the movie's special effects and thought-provoking story.
The film, which premiered on Aug 29, took in 287 million yuan in its first three days, trailing only Transformers: Age of Extinction, which earned 630 million yuan.
September, tucked between the summer vacation and the National Day holidays, isn't the most profitable time of the year for domestic films. One of the few local productions generating buzz is But Always.
Featuring top Hong Kong actor Nicholas Tse and mainland actress Gao Yuanyuan, the film is being promoted as a romance epic. The movie traces the personal history of a couple and their endearing love from the late 1970s.
The movie, which premiered on Sept 5, earned more than 70 million yuan during the holidays.
Some fans have criticized it for being too reliant on beautiful scenery while missing the power of the narrative.
Many small-budget domestic productions have flopped, with some earning as little as 2 million yuan, such as Once Upon a Time in the Old Bridge, a movie based on the life of a philanthropic Buddhist monk, who lived around 900 years ago.