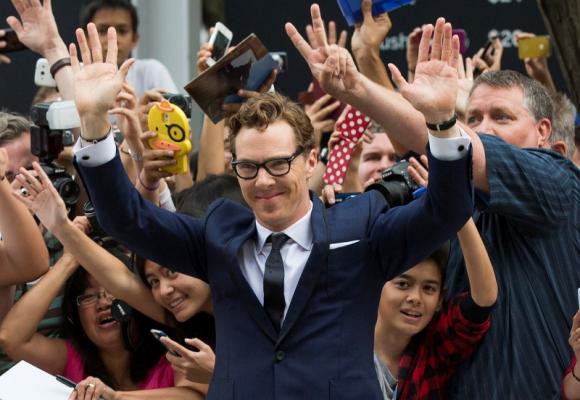 Benedict Cumberbatch poses at the "The Imitation Game" gala at TIFF in Toronto, September 9, 2014. [Photo/Agencies]
"The Imitation Game," a biopic about British mathematician and World War Two code-breaker Alan Turing, won the top prize at the Toronto International Film Festival on Sunday.
The film, which stars Benedict Cumberbatch as Turing, took the Groslch People's Choice award for best film at the 39th edition of the festival.
Accepting the award on behalf of director Morten Tyldum, Elevation Pictures' Noah Segal said simply, "Yummy, delicious," a reference to an audience member who had declared the same about Cumberbatch during a question-and-answer session following the film's screening during the festival.
"It was unnerving, but true," said Segal.
The award, which is chosen by audience members and has in the past gone to Oscar best picture winners such as "Slumdog Millionaire," and last year's "12 Years a Slave," will likely ramp up the buzz around the film.
In the movie, Turing is the brilliant mathematician who breaks the Germans' Enigma code, helping to bring the war to an end. He took his own life at 41 after he was convicted for being a homosexual.
Cumberbatch, one of the most sought-after actors in film and television, gave an immediate "yes" to playing Turing, he told Reuters last week.
"There is a huge burden, an onus of responsibility," the 38-year-old Englishman said. "This was an extraordinary man and sadly, bizarrely not that well known a man of his achievements."