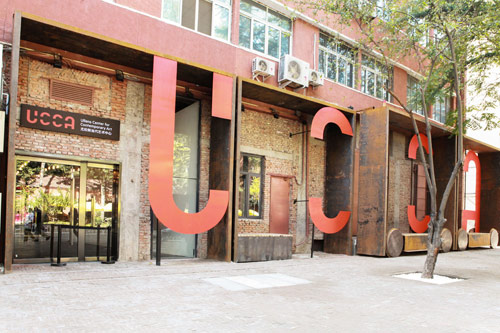 UCCA is the first nonprofit art museum in Beijing's 798 Art Zone and receives more than half a million visitors a year. Photos Provided to China Daily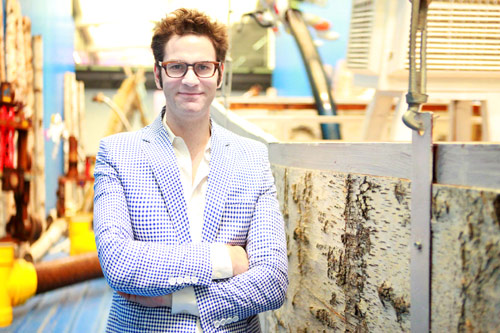 Philip Tinari, 34, is the third and the youngest director of UCCA.
He has the perfect credentials as director of Ullens Center for Contemporary Art, reporter Chen Nan says of the American Philip Tinari.
Philip Tinari decided a decade ago that he would explore China's contemporary art scene, and he is doing just that.
It was when he was studying literature and history at Duke University in the United States that the 19-year-old saw an exhibition of Chinese artist Xu Bing. It was a project inspired by the tobacco trade, on which the university's founding fortune had been built.
Tinari was studying Chinese at the time, so he was assigned by the university to pick up Xu at the airport and show him around. They talked in Chinese about art in China and the US. It was Tinari's introduction to Chinese contemporary art and he later became Xu's research assistant.
"For me, his presence was a priceless introduction to the Chinese avant-garde that then barely registered on the world screen," says Tinari, 34. "I was addicted to the new world."
Now, the internationally celebrated artist Xu is deputy director of the Central Academy of Fine Arts; while Tinari, who speaks fluent Chinese with a Beijing accent, has been working and living in Beijing for 13 years.
One year ago, he took over from Jerome Sans, who has helmed the institution since February, 2008, to become the third and the youngest director of Ullens Center for Contemporary Art in Beijing, the first nonprofit art museum in Beijing's 798 Art Zone, and founded by Belgian collectors, Guy and Miriam Ullens in 2007.
The 6,503-square-meter center, housed in the twin-domed naves of a renovated factory, receives more than half a million visitors a year.
At the time, there were doubts about the young director's lack of institutional experience, and rumors the Ullens would close UCCA after selling a major part of their Chinese contemporary art collection.
But Guy Ullens has backed Tinari and had this to say about him in a 2011 interview: "Tinari represents a new, fresh and inspired beginning for us at UCCA".
"I have always wanted UCCA to be the center of creativity in China and for China, and I believe Philip has the background, interest, and sensitivity to bring us to a new level here," he says.
Tinari's CV looks like he was destined for the role. Upon his graduation from Duke, he didn't hand in a thesis but curated the exhibition Made in Asia and then came to Beijing as Fulbright Fellow at Peking University.
He worked as curatorial assistant to The First Guangzhou Triennial in 2002. Then, before he returned to the US to study for his Master of Arts in East Asian studies at Harvard University in 2003, Tinari worked as translator and writer for newspapers and magazines, including the Beijing bureau of The Wall Street Journal.
He returned to Beijing in 2005 and moved into consultancy work for Sotheby's Chinese contemporary art department, before working as the editor-in-chief of Leap, a bilingual contemporary culture magazine. He was also an editor of Artforum and helped create its Chinese website.
He recalls his days as a fresh college graduate working in the emerging contemporary Chinese art world back in 2002.
One summer afternoon, he called curator Feng Boyi in Beijing and the next morning they took a ride in artist Sui Jianguo's car and arrived in a factory district, full of workers in jumpsuits making their way from the canteen back to the production floor.
Down a long corridor they stumbled onto a space that was being renovated into the art gallery - Beijing Tokyo Art Projects.
"I will never forget the date of Oct 12, 2002, when an exhibition titled Beijing Afloat opened there, the first gallery opening its doors at 798," he says.
A decade later, artist Sui Jianguo's red dinosaurs, which were displayed for the first time in that inaugural exhibition, have become a signature exhibit of UCCA.
"Back then, whenever a foreign guest visited 798 Art Zone, I worked as translator and some artists joked that I was the first tour guide of 798. But now you can see tour guides with little flags everywhere," he says.
According to Tinari, the first director of UCCA was more academic, while Jerome Sans made it more accessible. He hopes to combine the two approaches.
The first exhibition he put on was a retrospective of artist Gu Dexin.
Gu is one of the heroes of the Chinese contemporary art scene, though he quit the art world in 2009. In the spacious hall of UCCA, giant fields of apples were just left to rot over the course of the exhibition.
"I want to do the sorts of shows that stand up to repeated viewings and that generate extended conversations," he says.
During the past year, UCCA has held 15 exhibitions and more than 500 public programs, including art talks, film screenings and workshops. A new UCCA store, selling products designed by local and international artists, has been opened next to the building.
Designed by architect Zhang Yonghe, the new UCCA building was unveiled on UCCA's five-year anniversary.
"Moving the main door to be out on the street from the dark narrow alley also solved our feng shui problem," he says.
With four rusted steel frames, two mobile and two stationary, it is simultaneously a piece of architecture and a contemporary art installation.
Life in Beijing is, of course, busy for Tinari. Every day he commutes between his home in Sanlitun and his office in 798 Art Zone. In April, he got engaged to his Chinese girlfriend of six years.
"Ten years ago, I had to tell taxi drivers how to get to 798 Art Zone but now almost all the taxi drivers know where it is. Chinese contemporary art has found its proper place in the city. So have I."
Contact the writer at chennan@chinadaily.com.cn.