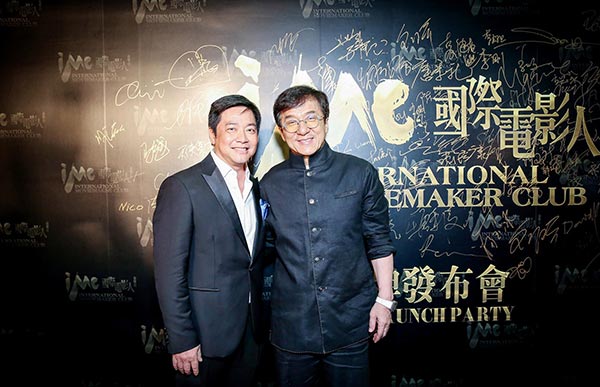 Director Stanley Tong (left) and Jackie Chan. [Photo provided to China Daily]
Hong Kong-based director Stanley Tong has launched a platform for filmmakers from the East and West, with the aim of promoting cultural dialogues.
Making the announcement at the Shanghai International Film Festival earlier this month, Tong said the IMC Moviemakers' Club will be located in the southern Chinese metropolis.
Among the club's prominent partners are actor Eric Tsang and actor-singer Aarif Lee, both from Hong Kong.
"Most celebrities need a private place to discuss new programs and their career development plans. I believe such a club, which might be the first of its kind in the mainland, can provide that convenience," Tong, 65, who is among early Hong Kong filmmakers to gain Hollywood recognition in the 1990s, said.
His latest directorial work is the Sino-Indian production, Kung Fu Yoga, which stars Jackie Chan and Lee.
Related:
Disney's 'Finding Dory' leads box office again
Baidu invests 2 billion yuan in filmmaking