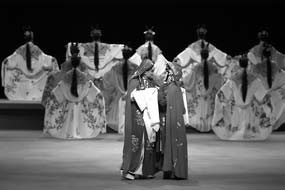 The Kunqu Opera classics Jade Hairpin and The Peony Pavilion will be staged in Guangzhou during the third week of October.
Jade Hairpin tells the tale of a young scholar falling in love with a Taoist nun, who comes from a wealthy family but seeks shelter from war in the nunnery.
The Peony Pavilion lasts for nine hours and is divided into three parts, each staged on a different night. In the whimsical story, the hero and the heroine fall in love in their dreams.
Taiwan writer Pai Hsien-yung is the artistic director of the upcoming shows. To present a fresh edition, he has cast young performers to play most of the roles and has tailored the costumes to modern viewers' taste.
7:30 pm, Oct 16 for Jade Hairpin; 7:30 pm, Oct 18-20 for The Peony Pavilion. Guangzhou Opera House, Exit B1 of Zhujiang New Town subway station. 020-3839-2888.