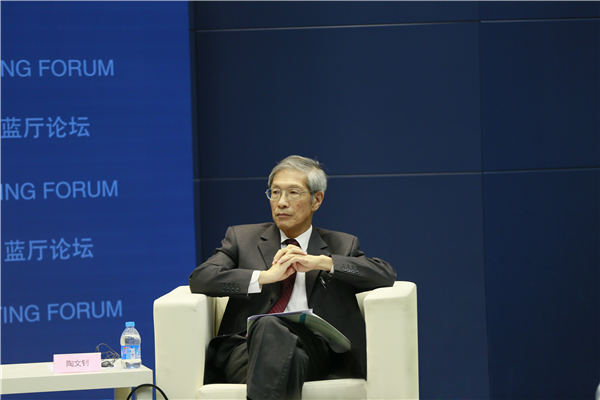 Photo provided to China Daily
Zhou Mingwei, president of CIPG, the parent body of the publisher, says the book will benefit the group that publishes thousands of English titles every year.
"It's a masterpiece, offering a top Chinese scholar's choices and judgment after going through numerous historical material, and also his own interpretations of the relations," Zhou says.
"It's a book that's important to American readers, especially scholars and policymakers."
According to J. Stapleton Roy, former US ambassador to China and founding director emeritus of the Kissinger Institute on China and the United States at the Woodrow Wilson International Center, American readers who are generally unfamiliar with how US history is taught in Chinese schools, would stand to gain from an improved multidimensional understanding of the historical interactions between the two countries.
"The improved understanding can provide a better base for managing the bilateral relationship in the future," he says.
David M. Lampton, director of China Studies at John Hopkins School of Advanced International Studies, agrees with Tao that China-US relations are becoming more important, and "distinct and far more hopeful in many respects".
He has worked with Tao earlier, describing him as someone "who stand with an exceptionally small group" of scholars in both China and America who have a command over the history of relations between the two countries and a clear understanding of how they are managed.
Tao was deputy director for the Institute of American Studies at top think tank Chinese Academy of Social Sciences in his younger days. He is now an honorary academic there. His younger colleagues at CASS like Yuan Zheng admire his academic rigor in research.
"Professor Tao's foreign language was Russian in the past, but he picked up English himself to cater a new research route," Yuan says.
"All his quotes and terms are precise and coherent with the historical time they were applied, solving the biggest problem such books usually encounter," says Xu Mingqiang, the finalizing editor of Tao's English book.
Warren I. Cohen, a distinguished US scholar, notices that despite the unavoidable competition and ideological differences between the two countries, "Tao bets that the leaders of the two countries will have the wisdom to overcome these".
"He believes that the future will be marked by mutual respect and win-win cooperation," Cohen says of Tao.
"Let us pray that Tao is right," Cohen says.
"In any event, he provides us with insights into Chinese perspectives that may help us to avoid conflict."
meijia@chinadaily.com.cn