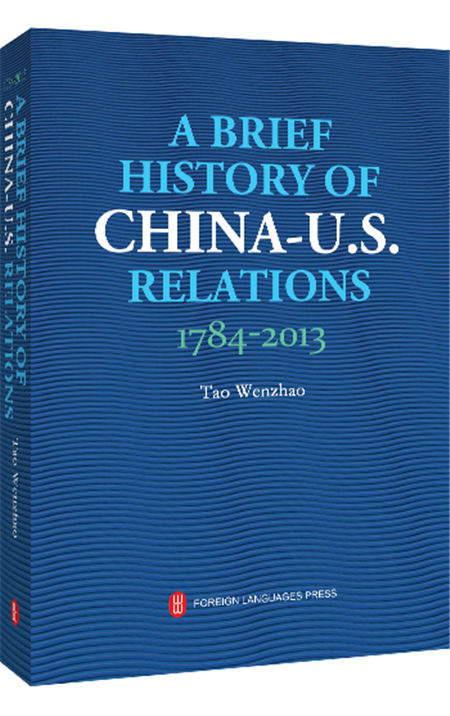 Tao Wenzhao's new book reviews the main line and exchanges between China and the United States from 1784 to 2013. Photos provided to China Daily
When President Xi Jinping was on his first state visit to the United States, in late September, a new book on China's relations with that country, intended to give English-speaking readers Chinese perspectives on the subject, was released in Beijing.
A Brief History of China-US Relations (1784-2013) captures more than 200 years of Sino-American exchanges since the US merchant ship Empress of China set sail for China.
It has been published by the Foreign Language Press, a division of the China International Publishing Group.
"I hope the book can reflect the main line and trends of exchanges between the two countries," says author Tao Wenzhao, 72, a renowned scholar.
His previous book, A History of Sino-American Relations (1911-2000), which is in Chinese, is widely used as a textbook in the country's universities. After the publishing house commissioned the English book, Tao condensed the three-volume Chinese version into one, and added updates on the relations in the 21st century up to June 2013, according to chief editor Xu Bu.
He says the publisher is hoping to "present Tao's book as a heavyweight book of insights customized for English audience".
In the book, Tao writes that Xi's meeting with US President Barack Obama at Sunnylands Estate in 2013 was "an innovation in the history of China-US relations. The duration, scope and depth of the talks between the two leaders were rare in record".
Tao says that Xi's successful visit to the US this year would set a new milestone.
"In the 21st century, the weight of global and regional issues in China-US relations has increased, and the areas of cooperation have also expanded ... China and the US have actually formed a community of shared interests," Tao says when assessing the current problems between the two countries.