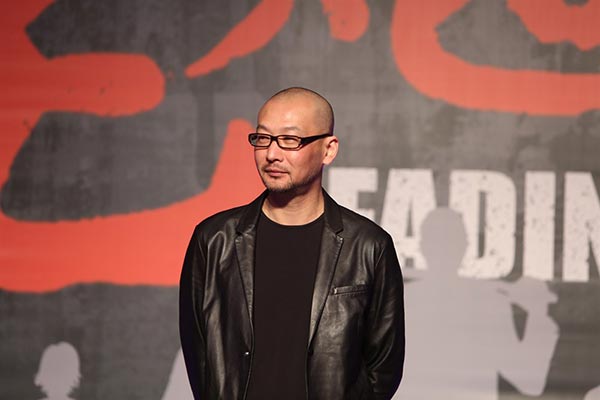 Director Guan Hu. [Photo/Mtime]
Chinese director Guan Hu's latest work, Mr. Six, starring award-winning director Feng Xiaogang and uprising star Wu Yifan, will close the upcoming 72nd Venice International Film Festival in an out-of-competition screening.
Mr. Six (Lao Pao'er in Chinese) tells the story of an old street gang in his 50s (this group of people are often referred to as "lao pao'er" in Beijing dialect) who realizes that he has been slowly abandoned by society for keeping to his traditional ways. Though left feeling emotionally empty, when his mischievous son causes trouble on the street, the old gang gathers his old pals and teaches the young gangs a lesson they will remember for a lifetime.
Guan, one of the Sixth Generation directors in China, previously participated in the festival's Orizzonti section in 2009 with his film Cow.
Feng congratulated Guan on his official Sina Weibo account last night, saying "Venice Film Festival is already 72 years old, and is the 'lao pao' among all film festivals. Mr. Six is a 'lao pao' in Beijing. When lao pao meets laopao, everything's right."
Guan then reposted Feng's thread and wrote: "Without youth, there is no world. Without lao pao'er, there is no universe. Progress, does not stop at you and me."
This year's festival offers a slim selection of Asian lineups. Director Zhao Liang's documentary Behemoth is the only Chinese and Asian film nominated for the main competition. Afternoon, a documentary featuring a conversation between Cannes- and Venice-winning director Tsai Ming-liang and actor Lee Kang-sheng, will also get an out-of-competition screening.
Director Hou Hsiao-hsien, who won the best director award at the 68th Cannes Film Festival with his film The Assassin, will join as a member of the main competition jury. Hou's film A City of Sadness won the Golden Lion in Venice in 1989. Gravity's Alfonso Cuaron will head this year's jury members.
The 72nd Venice Film Festival will be held from Sept 2 to 12.
Related:
Upcoming Venice Int'l Film Festival unveils line-up