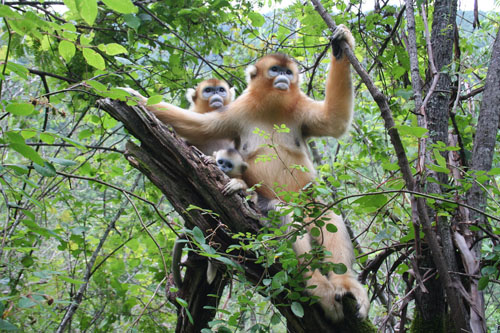 Many golden monkeys live in the dense forest at Shennongjia Natural Reserve. [File photo]
Located on the west bank of the Mingjiang River in Yaoda town, Ningming county, the rock painting dates to the ancient Luoyue people of the Zhuang nationality and has a a history of 1,800 to 2,500 years.
The State Administration of Cultural Heritage has confirmed that the rock painting will.represent China in its application for World Heritage status in 2016, with a draft also submitted to UNESCO's world heritage center for approval.
Shennongjia Natural Reserve, as a part of the UNESCO MAB (Man and the Biosphere) network of Natural Parks, is famous for its abundant and diversified geological relics, primitive and natural eco-environment and long-standing history and culture.
Preparation work started on the application seeking World Heritage status for Shennongjia Natural Reserve began in August 2013. James Westvick Thorshell, a senior IUCN (the World Conservation Union) advisor to UNESCO's World Heritage Committee, was invited to visit the natural reserve and gave direction to the work.
To date, China has invested 150 million yuan ($24 million) in the application process. It will continue to promote the task by delivering its formal application in both English and Chinese, hosting site inspections and assessments by UNESCO experts and promoting environmental preservation across the heritage area.