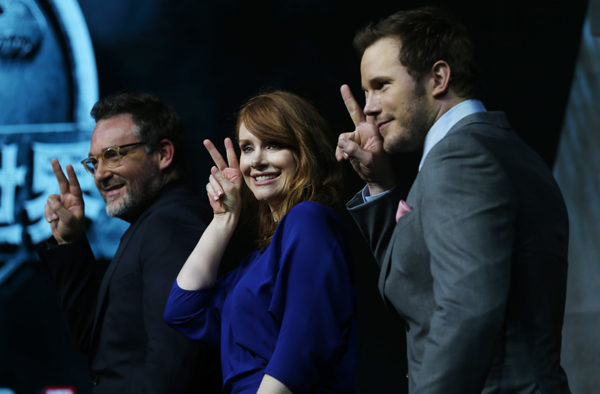 Jurassic World director Colin Trevorrow (left) teams up with its leading cast members Bryce Dallas Howard and Chris Pratt for the film's promotion in Beijing. Jiang Dong / China Daily
It might make you scream in fear or burst into nostalgic tears-either way, T.rex is back.
Jurassic World, the fourth installment of the franchise Jurassic Park, will hit China's big screens on June 10, two days before its release in North America. It has been 13 years since the third installment in the series was shown in China.
The Chinese mainland will only screen the 3-D edition of the new film.
"It's a great honor to be chosen to carry on the story, but I am only a representative of the millions of people who love Jurassic Park," Colin Trevorrow, the 39-year-old director of the new film, told reporters on Tuesday in Beijing.
"I don't feel I directed it, I feel the whole generation did."
Trevorrow is known for several independent productions such as Safety Not Guaranteed (2012). This is his first big-budget project.
The pressure is also huge-this is a much-loved saga launched by Steven Spielberg.