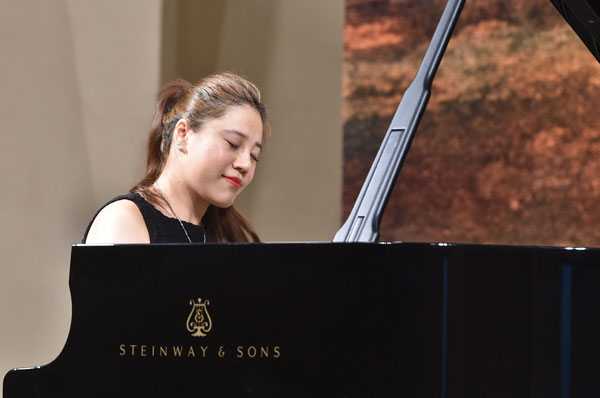 Zuo Zhang has worked her way to be a promising pianist on the world stage.[Photo/China Daily]
Like many girls, Zuo Zhang loved Barbie dolls when she was a child. However, when her mother took her to buy a present for her third birthday, she chose a piano over a doll.
"When we passed a musical instrument store, I was immediately drawn to the sound of the piano. That was my first date with the piano," says Zuo.
Zuo seemed destined to be a pianist. She recently performed at the opening ceremony of the BNP Paribas Rising Stars Piano Festival, which was held from April 23 to 25 at the Central Conservatory of Music in Beijing.
The 27-year-old pianist had an easy connection with the audience and a deep intimacy with the music when she played sonatas by Beethoven and Schubert.
"Her playing is very emotional and sensitive. She has an instinct about music," says Paul-Arnaud Pejouan, the artistic director of the festival, which was first held in Beijing in 2011.
The festival is targeted at nurturing the next wave of piano virtuosos in China, providing them a stage to display their talent and identifying the new rising stars in the piano world.
"For me, playing those great works is like a process of finding the truth about music, about the composers and also about myself," says Zuo, with a big smile.
"It's hard to describe what the truth is but after each show, I knew whether I made it or not. I can feel it."