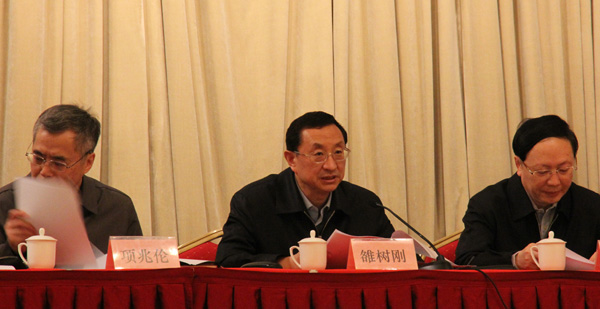 Luo Shugang (Middle), Chinese minister of culture, speaks at a conference on external work in the field of culture in Beijing, Jan 6, 2014. [Photo by Yu Yao/Chinaculture.org]

China will push for an all-around expansion of culture exchange and cooperation with foreign countries, Chinese Minister of Culture Luo Shugang said at a conference on external work in the field of culture in Beijing on Tuesday.

The conference was attended by Luo Shugang and Vice Culture Minister Yang Zhijin, as well as other officials from the Chinese Ministry of Culture, overseas Chinese culture offices and centers, the China Federation of Literary and Art Circles (CFLAC) and the Chinese Writers Association.

In a keynote speech at the conference, Luo emphasized the importance of strengthening the mutual development and integration of Chinese culture and world culture.

He said that cultural diplomacy plays a vital role in Chinese diplomatic strategy and China should build an even better image of itself by promoting traditional Chinese culture and contemporary Chinese values.

The conference also concluded that remarkable achievements have been made in external work in the field of culture during the past year. Chinese brand cultural activities are gaining more popularity around the world, which is a manifestation of an improved soft power of the Chinese nation.

Culture construction of "One Belt and One Road",the Silk Road Economic Belt and the 21st Century Maritime Silk Road proposed by Chinese President Xi Jinping during his overseas visit, is being carried out in full swing that many themed cultural exchange activities have been held.

The construction of overseas Chinese cultural centers have been carried out smoothly, and by the end of 2014, 20 centers had been established around the world.

As China comprehensively deepens its reform and opening-up, innovative designs in system and content are a must for the China's culture external works, Vice Cultural Minister Ding Wei said.