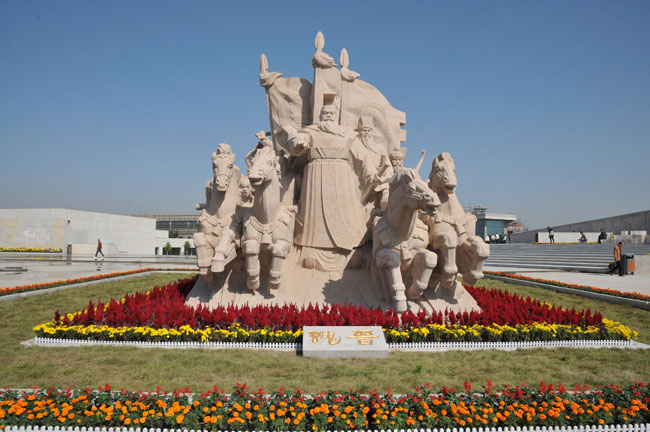 A statute in front of the new relics museum in Shanxi province.
TAIYUAN - The first relics museum in North China's Shanxi province opened to the public Wednesday, exhibiting the largest site for buried chariots excavated from China's Western Zhou Dynasty (11th Century to 771 B.C.).
The museum, built with an investment of 198 million yuan (about $32 million), is housed at the historic site of Qucun-Tianma in Quwo county in the southern part of Shanxi. The location features the royal tombs of the Marquis of Jin State, which date back to around 3,000 years ago.
"Study has shown that the Western Zhou people buried real chariots and horses, including almost every kind of vehicle from that time," said Hou Junjie, a consultant with the museum.
"Shanxi province, especially its southern area, constitutes an important part of the origin of Chinese culture," said Hou. "It is essential for us to interpret Jin culture with these historic sites and cultural relics."
The site was named one of the "ten new archeological findings in China" during the 1990s and recognized by the State Administration of Cultural Heritage as one of 100 key cultural relics sites in China.
Construction of the museum started in August 2009. It includes findings at the site excavated since the 1970s, such as 19 tombs of early marquises and their wives. Apart from the tombs, it also showcases buried chariots, including the biggest chariot pits from the Western Zhou dynasty, and over 12,000 valuable cultural relics.
"The museum is the first of its kind to demonstrate Jin culture in a comprehensive way," said Sun Yonghe, head of Quwo Cultural Relics Bureau and who is in charge of the project.