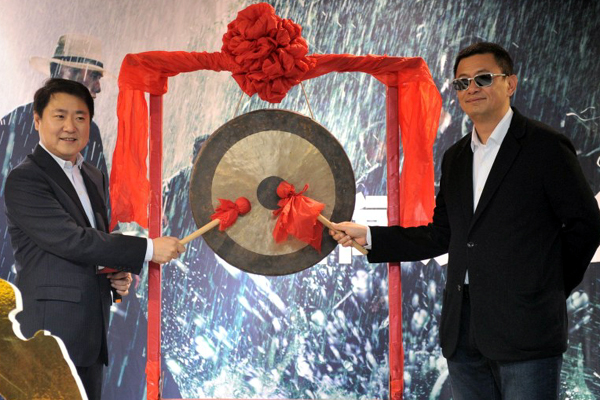 Yu Dong(L), the president of Polybona Films, and director Wong Kar-Wai announce that Kung fu epic "The Grandmaster" will release its 3D version on Oct. 23 at a press conference in Beijing, Sept 28, 2014. [Photo/China.org.cn]
The critic-applauded
Kung fu
epic "The Grandmaster" is getting a makeover: its 3D version will open in Chinese theaters on Oct 23, director Wong Kar-Wai said at a press conference in
Beijing
on Sunday.
Wong's Academy Award-nominated martial arts hit will become his first 3D movie. The world-renowned director said he hopes the box office results for the 3D film will surpass the previous 2D edition, which was released in early 2013. The 2D version raked in 290 million yuan ($47.3 million) at Chinese mainland box offices and has received plenty of awards, including 12 prizes at the Hong Kong Film Awards.
But Wong was not satisfied. The director spent a year polishing a 3D version with a team of 200 professionals. He flew to the United States to check the visual effects every month, and the money he spent on making the 3D version would have been enough to produce another brand new movie, Wong said.
"When I was shooting the film, I was considering using 3D technologies," he said at the press conference, "But the technologies didn't mature and match up with my needs. But when I was doing the film, I was doing it with a 3D approach in my mind, so now it is very easy for us to transform it into a 3D format." It is true that 3D technologies were not mature enough for him at the time, since the film is well known for its long development time – Wong first began preparing it in 2001. Wong said he was trying to take on the challenge of combining Oriental aesthetics and Western technologies through this film.