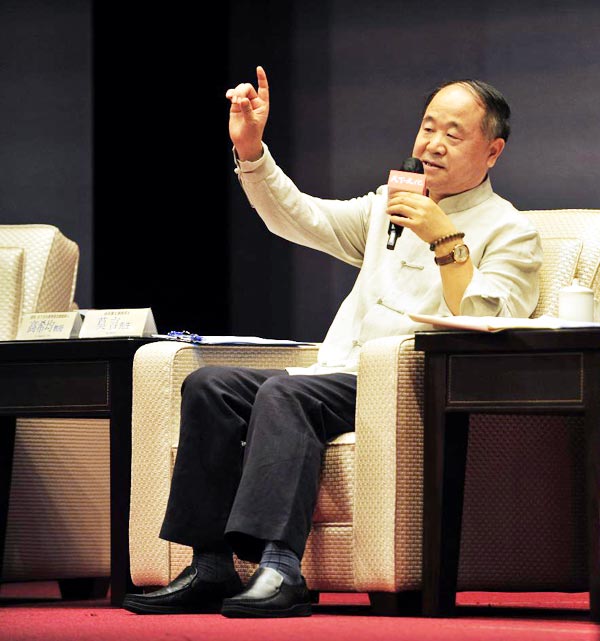 Chinese writer and Nobel Prize winner Mo Yan attends a cultural forum in Taiwan province on Sept 15, 2013. [Photo/Xinhua]
Mo Yan, a Chinese writer and Nobel Prize winner, was awarded the honorary degree Doctor Honoris Causa, the highest honor of Sofia University "St. Kliment Ohridski."
Mo, the first Chinese laureate of this honor in the 125-year history of the oldest Bulgarian university, received the award in presence of Chinese Ambassador to Bulgaria Wei Jinghua, Bulgarian caretaker Prime Minister Georgi Bliznashki and hundreds of admirers.
During the ceremony held in the Aula of Sofia University, Mo also received its academic award Blue Honorary Ribbon.
In a speech read by Prof Ivan Ilchev, Rector of the Sofia University, Bliznashki said thanks to the personal efforts of Mo Yan.
In his speech of thanks, Mo said Bulgaria gave him a sense of something close, native, pleasant and friendly.
He said he was 25 years old when for the first time read a Bulgarian literary work translated into Chinese -- a collection of short stories by Elin Pelin, one of the well-known writers in Bulgaria.
"I can say that in the field of literature I have had many mentors, many teachers. One of them is Elin Pelin," Mo said.
During his visit, organized by the Confucius Institute in Sofia and supported by the Chinese Embassy in Bulgaria, Mo will participate in a literary discussion, and answer questions from the media.
Mo, who won the Nobel Prize for Literature in 2012, has been known in Bulgaria with his novel 'Change' translated from English, and soon with the support of the Confucius Institute, his novels 'Life and Death Are Wearing Me Out' and 'Sandalwood Death' translated from Chinese will be published in the Balkan country.