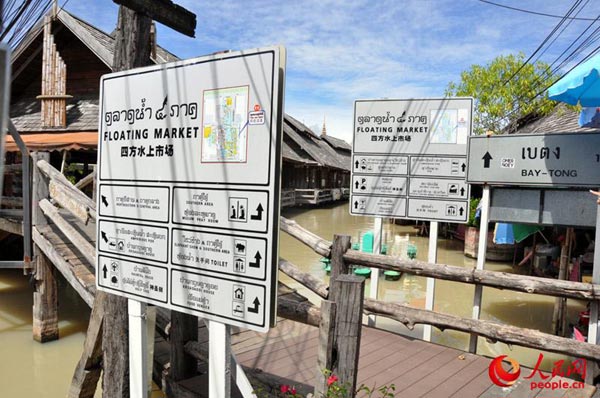 The guide map at the entrance of Pattaya floating market. [Photo/People's Daily Online]
Pattaya floating market in Thailand has become a hot travel resort after the Chinese movie Go Lala Go! aired.
It has been listed as a must-to-go place for Chinese tourists. Accompanied by Klaus Jurgen, Global Strategic Marketing Vice Director of Pattaya Floating Market, the reporting group of "The New Silk Road" from People's Daily Online visited the famous scenic spot by boat.
According to Jurgen, the floating market opened to public in 2008. The crew of the Chinese movie Go Lala Go! had stayed at the market to shoot the movie for eight days. After the movie aired, lots of Chinese were fascinated by the scenery of the market.
"The number of Chinese tourists reached 1.8 million by 2013. 140,000 Chinese tourists visited our market in August," says Jurgen. The staff members take advantage of new media including QQ, Baidu (Chinese version of Google) or micro blogs to promote the market.
Almost all the buildings in the market, such as bridges, walkways, high-feet houses and unique traditional balconies in Thai style, are made of wood. Visitors will be impressed with Thai style here.
More than 210 shops find their places in the 120,000-square-meter market. Peddlers tend to sell traditional Thai food, fruits and national artworks in the wooden shops. The goods here are relatively cheap and customers can get a discount.
The price tablets are written in English, Thai and Chinese as most of visitors are from China. Some shopkeepers can speak a little English and Chinese。
"Visitors can enjoy well-known Thai Sea Boxing in the market and they will enjoy elephant performance in October," says Jurgen.