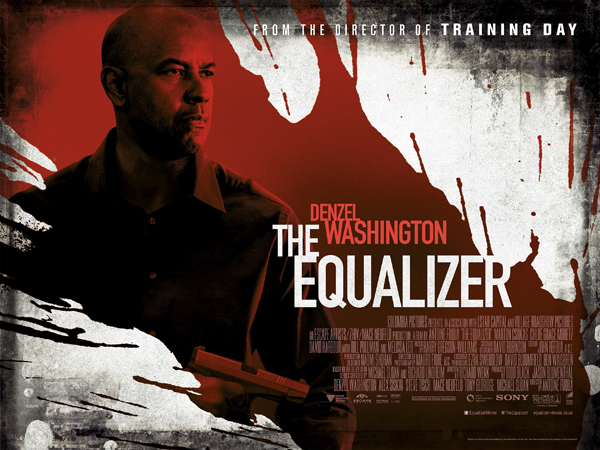 Squad poster for "The Equalizer". [Photo/Agencies]
Sony's "The Equalizer" debuted in first place this weekend. Starring two-time Oscar- winning actor Denzel Washington, the thriller opened with a strong estimated start of $35 million from 3,236 theaters in North America.
The film's debut represented the third largest opening weekend performance ever for Washington, behind "American Gangster" ($43.6 million) in 2007 and "Safe House" ($40.2 million) in 2012. It's also the top September opening for an R-rated movie.
"The Equalizer," reuniting Washington with Antoine Fuqua, who directed him to his second Oscar in 2001's "Training Day," is based on the 1980s TV series and skewed older in North America, with 65 percent of ticket buyers over the age of 30.
Audiences gave the film an A- CinemaScore. However, it only got 59 percent approval rate on RottenTomatoes.com.
3D family animated film "The Boxtrolls" from Focus and Laika debuted a bit above prerelease expectations, earning a hearty $17.3 million, the best showing for Oregon-based animation house Laika.
Directed by Anthony Stacchi and Graham Annable, "The Boxtrolls" features a boy named Eggs, who has been raised by a community of quirky, mischievous creatures living in a cavernous home beneath the streets of Cheesebridge. When the town's villain, Archibald Snatcher, comes up with a plot to get rid of the Boxtrolls, Eggs decides to venture aboveground to save the day.
"The Boxtrolls," earning a B+ CinemaScore, narrowly lost the second spot at the North American box office to holdover "The Maze Runner," which earned $17.5 million in its second weekend for a total of $58 million in 10 days.
Shawn Levy's dramedy "This Is Where I Leave You" came in No 4 in its second weekend, falling 39 percent to $7 million from 2,868 theaters for a total $22.6 million.
Warner Bros release "Dolphin Tale 2" took the No 5 spot in its third weekend with an estimated $4.8 million from 3,376 locations for a total of $33.7 million.
Rounding out the 10 most popular films in North America this weekend were "No Good Deed" ($4.6 million), "A Walk Among The Tombstones" ($4.2 million), "Guardians Of The Galaxy" ($3.8 million), "Let's Be Cops" ($1.5 million) and "Teenage Mutant Ninja Turtles" ($1.5 million).