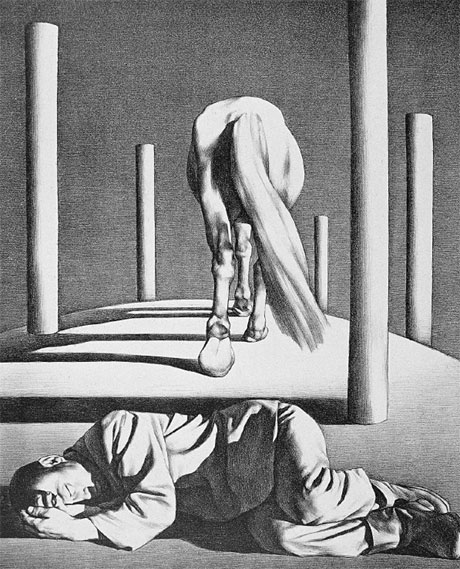 Lying Man and Receding White Horse, 1989, lithograph, by Su Xinping.
A major exhibition of Chinese engravings, set to open in Shenzhen, promises to show how today's artists were influenced by the art form that flourished last century. Lin Qi reports.
Many contemporary Chinese artists, including Xu Bing, Fang Lijun and Zhou Chunya, majored in engraving at college. The art form, which served as a revolutionary propaganda tool in the early 20th century, is still a source of inspiration for them, no matter what the artists now specialize in.
The first national engraving exhibition, to be opened at the Guanlan Engraving Art Museum in the country's southern city of Shenzhen in October, promises to show how the art has evolved and shaped the vision of today's artists.
The exhibition will present the dynamism of engraving with four curated sections. It's expected to change people's perception of the genre as a propaganda tool and extend its reach.
"Engraving has developed fairly well worldwide. I've been to many engraving biennials and festivals abroad that are even larger in scale than contemporary art events," says Wang Chunchen, curator for the art museum at the Central Academy of Fine Arts in Beijing.
"Even though it hasn't been thriving in China, the languages and the presentation of engraving have evolved over the past three decades."