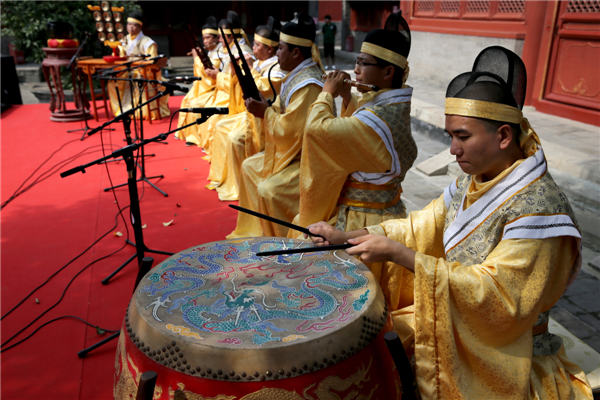 Photo by Jiang Dong/China Daily
Groups from Beijing, Tianjin and Hebei province performed guyue music – an ancient musical form that was almost lost - for audiences in Beijing's Zhihua Temple on Monday.
Guyue, also called "elegant music", refers to ancient music that was performed during important national or imperial events.
During the show, Beijing Zhihua Temple music, which dates back more than 570 years, was also played.
The wind orchestra music derived from the imperial palace of the Ming Dynasty (1368-1644) and became popular in the Beijing region later on. Retaining musical traits of music from the Tang and Song dynasties (618-1279), it is regarded as a "living fossil" of ancient Chinese music. In 2006, the music was listed as a national-level intangible cultural heritage.