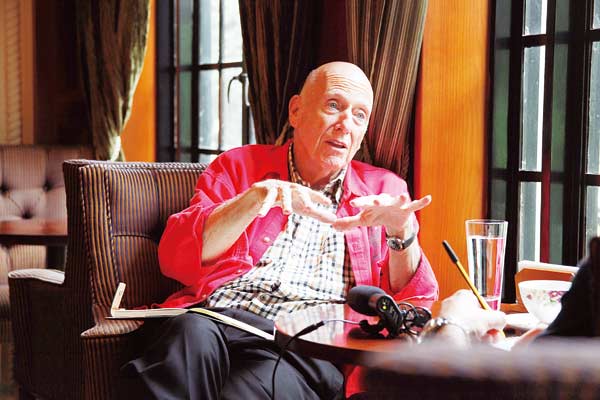 All that jazz: Gene Aitken, 77, is helping a new generation of Chinese interpret American jazz music in their own special way. Provided to Shanghai Star
A project to meld the musical styles of East and West is creating exciting new music. Matt Hodges tunes in.
Jazz wizard Gene Aitken is creating more magic in the recording studio: This time in Shanghai with a band combining the styles of old Chinese classics with tunes recognizable from United States pop culture.
This is part of a broader project to introduce US jazz throughout Asia by blending it with the local culture in a way that resonates at a grassroots level.
"We'll take Singin' in the Rain and an old Chinese song like Rose, Rose, I Love You and add a jazz interpretation to them," says Aitken, a famous conductor, composer and producer of jazz festivals and educational events.
The project is being done in partnership with Dong Huang Cultural and Communications Company, a local firm run by Andy Hu. Aitken describes it as Hu's brainchild.
"The idea is that old things don't die but are brought back for a new generation, while older people hear a new twist," adds the spritely 77-year-old.
Through his latest project, the Grammy-nominee and Fulbright Scholar has visited exotic locales like Nepal and Lebanon and conflict zones like Iraq and Afghanistan, where he is helping to rebuild the cultural infrastructure.
In Iraq he was also conducting military bands as part of a US-funded arts program in coordination with the US Embassy there and aid programs.
He has been based in Bangkok for the last decade but nowadays he spends most of his time on the Chinese mainland or in Taiwan.
Aitken is wearing a red jacket bearing the insignia of Anasazi Indians from New Mexico on the day we meet and is full of energy. He says he hits the gym every day, and has done so for the past 40 years. Having already come out of retirement once, he has no plans to stop what he is doing now.