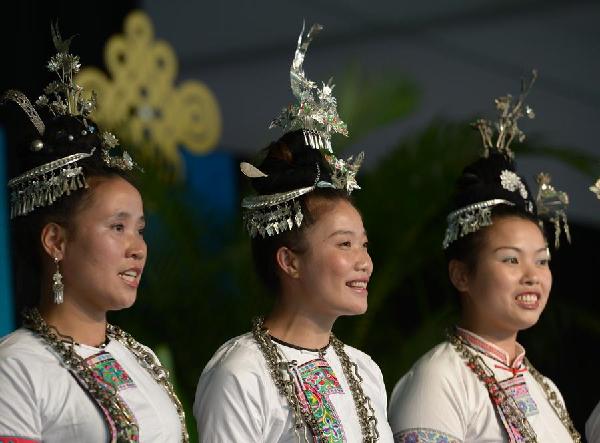 Girls from Dong ethnic group of Southwest China'sGuizhou provincesings at the opening ceremony of 48th Smithsonian Folklife Festival in Washington D.C., the United States, on June 25, 2014. The 48th annual Smithsonian Folklife Festival opened in Washington on Wednesday with a major theme: "China: Tradition and the Art of Living". [Photo/Xinhua]
As a Chinese folk art festival closed in Washington on Sunday, burgeoning cultural exchanges between China and the United States has been deemed a more active and pivotal role in promoting bilateral ties.
The two-week 2014 Smithsonian Folklife Festival, having attracted about one million visitors this year to see the living traditions in China and Kenya, was credited by some critics as the largest cultural event in Washington.
The festival offered visitors a chance to watch craftspeople making paper cuts, New Year's prints, clay figurines, kites and sachets and to get close to artists specializing in embroidery, batiks and porcelain
As part of the festival, the Chinese folk art show, invited to the festival for the first time ever, have been well received by local audience and foreign travellers.
The success showed the Westerners' acceptance and understanding for the colorful Chinese culture, experts said, adding it will promote the cultural exchanges between Beijing and Washington.
Chinese Culture Minister Cai Wu said during the festival last week that such cultural event will lay a solid foundation for people-to-people exchanges, an important part of the new type of major-country relationship.
"The strongest bond linking the two nations I think should be culture," Cai said, adding that he hoped the festival "can help Americans better understand Chinese culture and the Chinese people, and promote mutual understanding."
Related:Chinese folk festival in Washington attracts million visitors