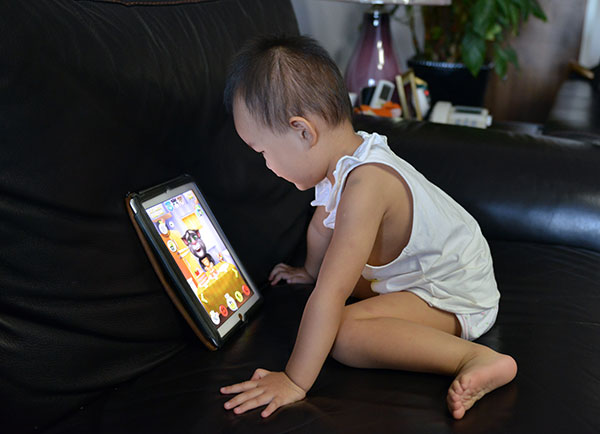 A child looks at an iPad in this file photo. [Photo/VCG]
Well, if you are among one of the parents who are increasingly concerned with children's addiction to the internet, you are not alone.
Nearly a quarter of the internet users in China are under the age of 19, and those under the age of 10 exceeded 18 million among the 688 million overall web users in the country as of the end of last year, statistics from China Internet Network Information Center has shown.
The figures from another recent report released by China's internet giant Tencent may be much more staggering.
The report said more than half of children who first used the internet are under the age of five. Moreover, 90 percent of those under the age of 18 in China use the internet in their daily lives, and 95 percent of urban children are web users.
"For today's children, internet is like home; it's their way of life," Sun Hongyan, an expert on youth counseling said.
"They are living in the online world which becomes a part of them since the day they are born. We see some mothers breast-feed their children while using mobile phones. We also see parents give their children an iPad/iPhone to play with," Sun said.
"So it's becoming normal for children to start using internet at a younger age, and the internet is going to be a major force that will influence their lives."
However, there are risks for the young web users. Fraud, unhealthy content and cyber-bullying are three primary dangers, a survey on the protection of the children conducted by Tencent revealed. Among the three dangers, internet fraud accounted for 61 percent.
Besides, a latest figure released by China Youth & Children Research Center shows network infringement is quite common among Chinese high school students, with over 47 percent reporting theft of passwords, and 17 percent being cheated during online shopping.