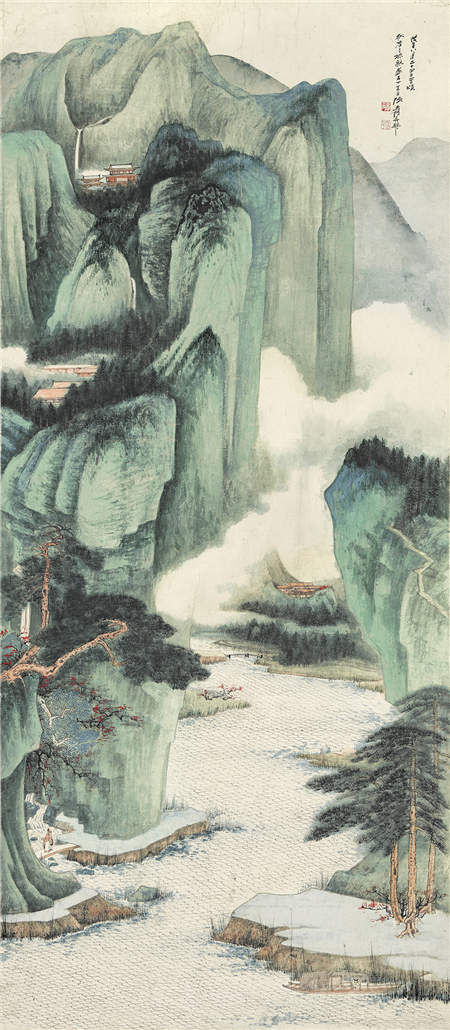 Zhang Daqian's Spring Clouds Amid Autumn Landscape will go under the hammer on Oct 4. Photo provided to China Daily
Master painter Zhang Daqian (1899-1983) was well known for having a large number of friends and students. Among them, painter Li Qiujun was special.
They got to know each other through Li's elder brother, who was one of Zhang's best friends.
They admired each other's artistic talent and became confidants, which resulted in talk about a romantic relationship.
In 1948, Zhang produced Spring Clouds Amid Autumn Landscape, a mountain-and-water ink painting featuring gongbi (meticulous brushwork), as a gift for Li's 50th birthday.
A year later, Zhang permanently departed from the mainland, and traveled and exhibited around the world before settling down in Taipei in 1976.
After leaving the mainland, he often said that he missed Li, who died in Shanghai in 1973.
Spring Clouds Amid Autumn Landscape will be auctioned in Hong Kong on Oct 4.
The painting not only marks a friendship between the two painters, but it deserves special attention because it shows Zhang at the top of his game as he sought to master the mountain-and-water style, according to C.K. Cheung, head of Sotheby's Chinese painting department.
Sotheby's will auction the work at its major autumn sale, which runs from Oct 1 to 5.
Cheung says the painting's composition and Zhang's attention to details reflect his incorporation of traditional touches, especially from Song Dynasty (960-1279) paintings, while also developing his own style.