Finding fantastic fashion far away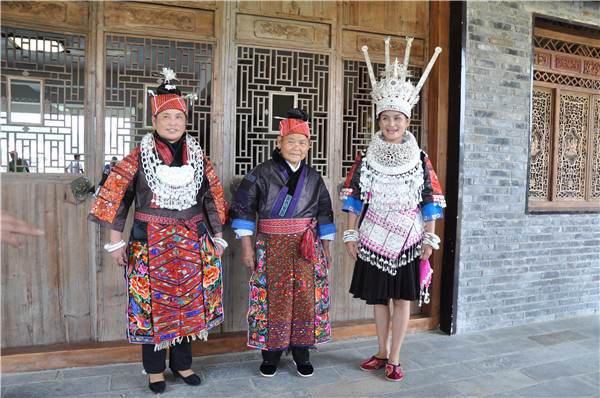 Miao women display their traditional costumes and silver ornaments in eastern Guizhou province. LIU XIANGRUI/CHINA DAILY
When British fashion instructor Natalie Gibson paid a four-day visit to Beijing to judge a fashion show years ago, she had little inkling that a side trip to a local market would lead to greater journeys.
That's because she encountered for the first time the traditional attire of the Miao ethnic group. She was fascinated by the clothing's aesthetics and carried several garments back with her to London.
"From then on, I was interested in the Miao people," the 78-year-old says.
Her Chinese students sent her more information about the ethnic group.
But she never imagined she'd have the chance to travel deep into Southwest China's remote mountains to Miao enclaves.
So, she and her husband, Jon Wealleans, a painter, were surprised when they were recently invited to join a research trip hosted by the IAIA, a Beijing-based service agency and training organization for overseas art study.
"Our students really want to see more teachers from famous institutes and engage them directly," says Chen Yuhan, a teacher with the agency.