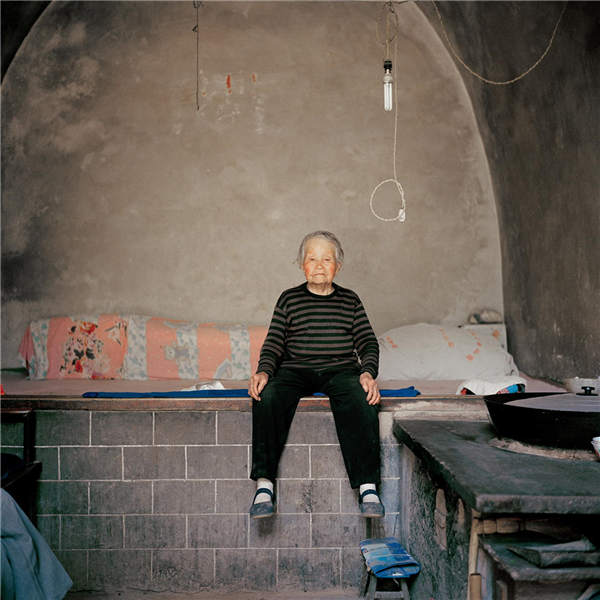 A photograph from the series Sijiagou - Remembering Home by Amelie Kahn-Ackermann. [Photo provided to chinadaily.com.cn]
Six photographers' works tell their stories about home are on display at the TAN Gallery in 798 Art District.
Photographs from the exhibition titled "Voices" have toured Switzerland, France and Germany, with some winning multiple awards and widespread acclaim.
"This exhibition, as a sextet, plays around home, homeland nostalgia and home coming. Most of the photographers travel afar to search and observe other people's life or search for their own roots. Ultimately it is a process of self discovery journey", Wang Tao, curator of the exhibition, said at the opening ceremony.
In the photo series Sijiagou - Remembering Home, Amelie Kahn-Ackermann goes back to her biographic roots. In a remote part of northern Shaanxi province, she captures what could soon be gone. She won the Germany Young Photographers Award for her series Sijiagou in 2016.
Amelie was born in Beijing in 1993 and grew up in Italy, Russia and China. "I am most good at German, but I never felt Germany is my 'home'", Amelie said. She got to know her mother's family in Sijiagou, a remote village in Northwest China's Shaanxi province when she was 19 years old, which was a big surprise for her. "Suddenly I have more than 50 new family members".
Sijiagou is so remote that time seems to stand still and the centuries' old lifestyle is preserved and sustained. Amelie explained that youngsters in the village are leaving for cities, whereas old people are not willing to leave and continue to keep traditions alive. The rapid development and modernization of China may take away from Amelie's "hometown" in the future, which upsets her.
Johanna-Maria Fritz started taking photographs when she was 13 years old, and after going to Iceland in 2012 for the first time, she was enchanted by the place and shot a series of photographs portraying a circus troupe there.