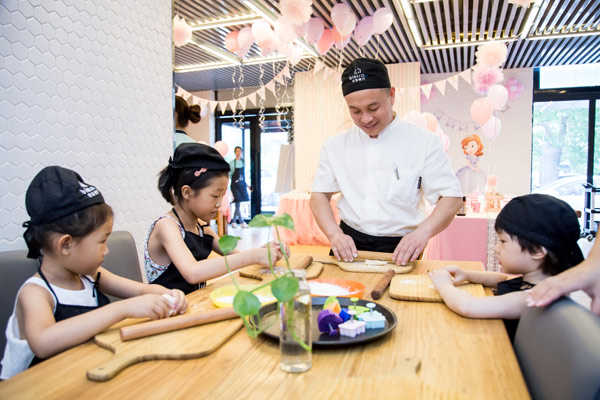 Bistro Blu is a place that children can play, parents can shop and, above all, families can enjoy cuisine that can be classed as gourmet. [Photo by Dong Fangyu / China Daily]
It has taken a German in China to discover the synergy between keeping children clothed, fed, amused and healthy
Dining out with babies and young children can be a little more than an adventure if you are not fully prepared for it.
These days quite a few restaurants have menus for children that go a long way to filling tiny tummies, but it takes more than food to appease the young. Often parents can be preoccupied ensuring they do not run about the place causing a din and in the process upsetting all and sundry.
Fancy theme restaurants for children cater to those at the hyperactive end of the scale by providing a place to play, but the food is often mediocre.
So the other day when I accidentally wandered into a kids-friendly bistro with a play area that was part of a shop where I was shopping for baby products, my instinct was to head for the exit.
However, my inquisitiveness got the better of me, and I decided to have lunch there and at the same time find out a little about the place. One of the first things that caught my eye, on the menu, was that the proprietor is German. I also found the place to be amenable to the wishes of both children and parents. Children can play, parents can shop and, above all, families can enjoy cuisine that can be classed as gourmet.
The taste buds of my inquisitiveness were only slightly satisfied, so the next day I returned and approached the owner of Bistro Blu, Nils van Doorn, who told me of his views on children's dining and the experience of being an international parent in China.