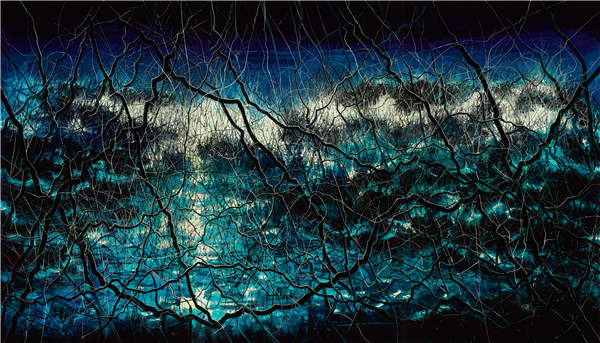 Blue, oil on canvas by Zeng Fanzhi. Photos provided to China Daily
Top-selling artist Zeng Fanzhi, who's best known for his Mask series, is holding his largest solo exhibition to date at the Ullens Center for Contemporary Art in Beijing to showcase the wide range of his work. Xiao Xiangyi reports.
Artist Zeng Fanzhi is tired of being associated only with his Mask series that commands eight-figure prices at auction. So he is holding an exhibition to try and dispel the notion that he is only a mask painter.
"I hate to be stereotyped. It's time for ordinary people to get access to my real work," he says.
"They will find that the Mask series is a very tiny part of my creations."
He's one of the world's top-selling artists, whose The Last Supper, from the Mask series, sold for $23.3 million in 2013.
"I was happy at first, but then got stressed. An artist cannot be in ecstasy or in tension for too long. So I dealt the chaos, or else I would not be able to create anything," says the 52-year-old.
He believes an artist has to be free and absolutely honest in his creations.
"Many collectors wanted to commission my paintings. Even my father hoped I would paint more in the series. But being commissioned is ridiculous and disastrous for an artist."