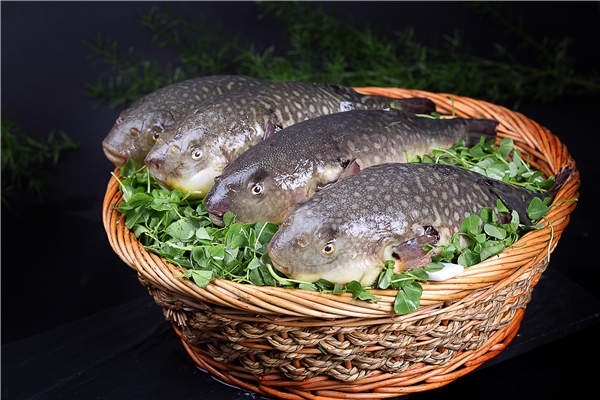 The ban on the sale of puffer fish was lifted earlier this month. Zhang Zhuojun/China Daily
After nearly 20 years, Chinese authorities have lifted the ban on the sale of puffer fish.
Earlier this month, the Ministry of Agriculture and the China Food and Drug Administration jointly issued a new regulation, allowing certified companies to raise the blowfish, named for their inflated appearance, and sell processed products.
Chinese people regard puffer fish or hetun - "river hog" in Chinese, as one of the most delicious delicacies the Yangtze River offers. The earliest record of puffer fish consumption in the area dates back to Shanhaijing, a collection of mythical legends written more than 4,000 years ago.
However, the fish contains tetrodotoxin, a lethal poison. A tiny amount can kill a human in few hours. Moreover, the poison that exists in many parts of the fish, including the eyes, blood, ovaries, liver and other inner organs, can become more toxic once heated.
It needs skill to carefully separate the edible parts, usually the skin and meat, from the poisonous organs to cook the fish, and such skills require training and experience. Only a few chefs master the art, according to Yang Zhanwen, a famous chef with expertise in Chinese and fusion cuisine in Beijing.
In 1990s, the central government officially banned the fish from entering the market.
A popular saying, "Risk your life to eat puffer fish", reflects the appeal of the blowfish in China, and according to Yang, serving puffer fish is a more or less open practice in many restaurants, because there is huge demand from diners, and "even the regulatory authorities will turn a blind eye as long as no one reports to them".