'Distinctly Chinese' elements stealing spotlight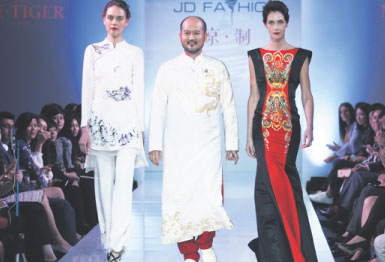 Founder of Chinese fashion brand NE・TIGER, Zhang Zhifeng, and models showcase the collection during London Fashion Week on Monday. [Photo by QIAN XINGQIANG/CHINA NEWS SERVICE]
Chinese fashion designers who have studied and lived overseas are pushing a new wave of modern design.
They aim to champion cultural elements from China, and their collections are becoming increasingly popular at home and abroad.
At this year's London Fashion Week, many Chinese designers exhibited garments, accessories and jewelry incorporating material such as silk and precious stones. They also used Chinese design elements, such as traditional qipao costumes and traditional water and ink painting.
All these designers developed a deeper appreciation of Chinese culture while living abroad. This coincided with a new trend among Chinese customers with more disposable income who are seeking Chinese-influenced design for new identity and individual expression.
"There is so much depth and volume to Chinese culture, which we can use to express ourselves, our feelings and emotions, and characters as Chinese. That's what fashion is all about," said Wang Yang, who founded her luxury jewelry brand Hera Moment eight years ago.
Although it is the first time that Wang has exhibited her jewelry overseas, she said the interest from international boutique brands' buyers and individual overseas Chinese customers has been "enormous".
Her collections are a particular favorite with high net worth Chinese who hold management positions in the UK.
"They want something distinctly Chinese, which will shine when they go to conferences and meetings dominated by Western management leaders," Wang said.
Hera Moment is characterized by jewelry made by using flowers that frequently appear in Chinese poetry and pictures, like the water lily, which symbolizes purity, and plum blossom, which symbolizes pride and individuality.
Prices range from a few hundred pounds to thousands of pounds.
The jewelry pieces are made in China, and material is bought from international locations.
Wang, who studied Japanese at Peking University, worked at PricewaterhouseCoopers after graduation, but she and her husband later went to live in Botswana.
During this time, many Chinese consumers asked her to bring back precious jewelry from the African country, and this prompted her to think about o ering her customers more in terms of Chinese elements and design.
Quality, attention to detail and appreciation of Chinese elements are also shared by Yu Ge, who founded her brand Annderstand in Shanghai this year.
Like Wang, Yu has an international background, having traveled extensively between China and Japan in her early school years because of her parents' work. She studied design in New York before working in fashion merchandising for global brands like Gucci and Louis Vuitton.
Her brand combines Chinese elements from traditional paintings and characteristics of the qipao with Japanese fashion design elements from the kimono and Western elements, such as women's corsets.
Yu and Wang are just two representatives of a string of Chinese indigenous brands that have grown rapidly.
One key example is the 22-year-old Chinese cultural fashion company Eve Group, which joined with Chinese e-commerce platform JD.com this year to showcase works of six Chinese indigenous brands in London.
One of these is Eve Group's Eve de Cina, which wowed an international audience with its evening gowns, using patterns and fabric from the qipao.
Courtney Blackman, managing director of Forward PR, a London public relations agency that specializes in fashion, said: "Chinese designs are increasingly appearing on international catwalks, because many Chinese designers are educated in international fashion capitals like London, New York and Milan. So they naturally bring their collections to these cities.
"Chinese designs vary greatly in style, ranging from the beautiful designs of Ji Cheng, which incorporate Chinese poetry and patterns, to Fun Affair by Zhu Xi, which blends Chinese mysteriousness with UK street style.
"I wore a Ji Cheng skirt to a London Fashion Week event this year and really enjoyed it."